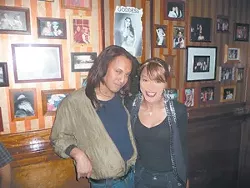 Lady Saphire and Sireeta Monroe at Sparky's Pub.
Release Date:
2010-01-27
One sentiment was unanimous at the grand opening of Sparky's Pub earlier this month – no one felt like they were in San Antonio. Overheard more than once were statements like, "I feel like we're in Dallas, or I don't know, maybe Chicago?"
Owner Randy Cunniff offered an interesting take on this perspective. "I keep hearing that – that it doesn't feel like San Antonio in here. You know, we're the seventh-largest city in the nation, so why shouldn't we have the same things other big cities have? Why don't we deserve it?"
The "it" Cunniff seems to be talking about is an unpretentious, relaxed environment where gays and their friends can hang without feeling like they're in a club or a dive. Sparky's is a pub — where they even occasionally turn off the music videos to watch the Cowboys game. All the mixed drinks are served in pint glasses, and the staff wears black T-shirts with slogans like "Old Time Gayrish Pub," and "Varsity Level Drinking," that Peter Becker, Cunniff's partner of nine years designs. The slogan theme continues in the front windows with banners that read "Why is there never beer left at the end of my money?" and "Beer is the reason I get out of bed every afternoon!," both of which are branded with "See you at Sparky's."
Anyone who remembers what the former Silver Dollar "did with the space" all those years before Sparky's took over last July will be shocked at how truly transformed the interior is. While a lot of people will forever miss the positively slummy, gay-rodeo atmosphere the Silver Dollar offered, Sparky's is an obvious upgrade. `Side note: the Silver Dollar is still alive and kicking it's boots in the air, tight Wranglers and starched shirts fully intact, a few blocks north of Sparky's. To read Bar Tab's acid trip of a review, visit sacurrent.com/dining/review.asp?rid=13861`. When I lovingly described Sparky's predecessor as a "dive," Cunniff said, "You know, it's funny. We didn't set out to make this place as nice as it turned out. We just felt the need for a place that's just for drinking. You can dance at Heat, you can eat at Luther's, and now you can drink at Sparky's. Cunniff happens to own all three.
Sparky's has a warm, cozy feeling that one doesn't necessarily associate with a gay bar. In keeping with the look, the crowd is refreshingly mixed. On my first visit (during opening weekend) my buddy Flo was pleased to see a surprising number of "ladies." Some of them were more interested in the other ladies, some weren't ladies after all, but some of them were just right. An adorable pair of lesbians in matching red outfits didn't feel like posing for a picture, so we ordered two scotch and waters ($3.50 apiece) and admired the wooden arches above the bar.
The wood theme works amazingly well with the bar's focal point — a touching scrapbook-style wall of gay fame that Cunniff and Becker collected from the community. The queens of the gay Stone Age grace the walls alongside photos of shirtless rowing teams and boys-gone-wild '80s party pictures. Standing watch over the contained revelry is a poster of SA's most legendarily beautiful transsexual, Miss Tandi Andrews (may she rest in peace and thank God she's on YouTube) showing off the boobs that launched a thousand trips to border-town plastic surgeons, under an apt title, "Goddess." Across the bar, there's another nostalgia trip. The same community photos that were collected, copied, and returned were used to create a stylish mural. Cunniff explained, "There's a photo of the original staff of the Silver Dollar up there — most of them are gone. Timmy Ram's up there too. He was a TWIT (This Week in Texas) rep, also gone."
If it sounds depressing to have photos of the dearly departed in a bar — it's not. It's actually really touching that someone finally cares enough about the history of SA's gay scene and the Main Strip to share it with people. Having owned a slew of bars in San Antonio and Austin, Cunniff has been a major player in the game of nightlife and it's pretty obvious that these are in fact "family" photos. Staring at Tandi in her naked goddess moment brought back memories of her mesmerizing performances at the Wild Club, a place Cunniff also owned. Good times in dives and tears in swanky places — why don't we deserve it? — Bryan Rindfuss