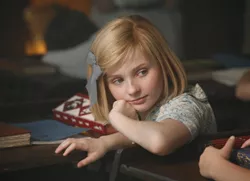 Kit Kittredge: An American Girl
Director:
Patricia Rozema
Screenwriter:
Patricia Rozema
Cast:
Abigail Breslin, Willow Smith, Julia Ormond, Jane Krakowski
Release Date:
2008-07-02
Website:
http://www.americangirl.com/movie/
Rated:
G
Genre:
Children
Slated to open alongside the likes of Hancock (on Will Smith's self-proclaimed "Big Willy Weekend"), Kit Kittredge: An American Girl proposes to challenge that big box-office glitz with wholesome-with-a-capital-W (eh … better make that all-caps) family fare. Given its built-in audience, it just might pull it off.
It's George Lucas's product tie-in formula in reverse — merchandise, then movie. Since introducing its historical books and related dolls for girls in 1986, the American Girl company has exploded into an empire all its own with an ever-expanding offering of dolls, magazines, stores, theaters, cafes, and two boutiques at which girls can treat their dolls to a "new do" in the "Doll Hair Salon." Kit, the spunky Depression-era journalist-in-training, is one of the most popular characters in the collection, and her fans will be eager to see Little Miss Sunshine's Abigail Breslin bring her to life.
The film may also appeal to moviegoers who aren't necessarily well versed in the American Girl trappings. Kittredge stands on its own with a story reflective of the growing socio-economic divide in 1930s America. Kit's family painfully transforms from well-to-do to make-do as they take in a colorful collection of boarders and sew clothes from feed sacks. Kit quickly turns her reporter's attention to a series of burglaries and the "hobo jungle."
Even with its admirable female lead, its moral message, and its compelling story, Kittredge feels as if the filmmakers were working with rose-colored glasses on — it's like the set is part of a theme park, the costumes were fished from a dress-up trunk, and the lines swept up from Frank Capra's cutting-room floor. Director Patricia Rozema represents a trying era with nostalgic imagery, golden lighting, sanitized dialogue, and actors we'd forgotten about (Julia Ormond, Chris O'Donnell) to Hallmark-Hall-of-Fame effect.
In the end, Kittredge plays it a little too safe to make a lasting impression. But whichever comes out on top this weekend, Hancock or Kit Kittredge, the Smith family will be pleased. Kittredge introduces Smith's daughter, Willow, as an adorable hobo named Countee.