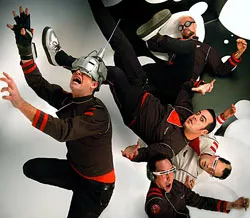 Release Date:
2008-05-14
Transmission: Forget the fact that the San Francisco-based, sci-fi psychobilly, toilet-paper-throwing, theremin-helmet-wearing Phenomenauts were once chosen as Best California Live Band by the East Bay Express and Best Lifestyle Music Artist by the SF Weekly; that the band (led by "Commander Nova," who calls his bandmates "my men," their roadies "cadets" and their concerts "missions") earned their reputation through the use of something called the Streamerator (a leaf blower that shoots an entire roll of toilet paper into the audience in seconds) and by wearing the infamous Theramatic-Helmerator, and that their music sounds like a mix of punk, new wave, and Battlestar Galactica; that their lyrics won't go beyond "Uranus is the 7th planet from the Sun/with a stupid name that is just plain dumb/Neptune is cold and it smells real bad/like sick ammonia and methane gas/Earth has its faults/and to that we confess/but you can't blast Earth/because Earth is the best"; that their third full-length album, aptly titled For All Mankind, is finally avaiable in your solar system.
Forget all that. The reason you should see them live is because, in concert, the Phenomenauts rock. And even though they won't be riding in their intimidating Phenomabomber — a 1983 Dodge Van turned into a spaceship they now use only locally since they upgraded to a more conventional bus to fit co-headliners Mildroid and the A.K.A's (are everywhere!) — the night will be a feast for the eyes while keeping your ears well entertained.
End transmission.
8pm Sat, May 17, $10 (all ages), Rock Bottom Tattoo Bar, 1033 Avenue B, (210) 320-2911.
— Enrique Lopetegui