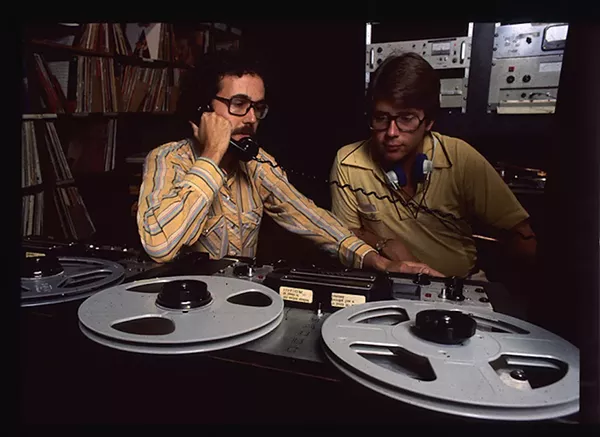 Courtesy of KRTU
A shot from the early days of the KRTU station on the Trinity campus. Note the reel to reel.
In partnership with Do210 and Mike's Harder, KRTU 91.7 FM will launch the first ever satellite broadcast of Indie Overnight, their nightly indie rock show, at North St. Mary's staple The Mix this evening. The concert, part of their KRTUesday series which "aims to give exposure to local emerging talent, while creating an engaging and lively show for the San Antonio community" will feature local ethereal emo rockers
Hydra Melody
, blues booze punks
The Bolos
and stoner barely-legal nihilists
Junkie
.
There will also be a DJ spinning between sets and the aforementioned alcoholic lemonades are free for those that RSVP at
do210.com/krtutuesday
. Hopefully the Spurs will get their shit together, take apart this OKC nuisance and we will have all the more reason to celebrate.
The broadcast can be streamed live on your FM dial at 91.7, or online at
krtu.org
. Doors open at 8:30 p.m., Junkie will begin at 9, followed by The Bolos at 10 and Hydra Melody at 11. The live broadcast will begin at 10.