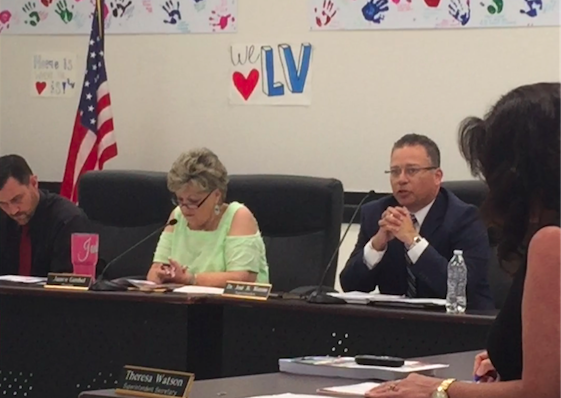 Alex Zielinski
LVISD Superintendent Jose Moreno addresses a packed cafeteria.
The monthly board meetings for the La Vernia Independent School District usually don't attract any more than five audience members. On Monday evening, however, more than one hundred parents, teachers, students, and other community members filled the small La Vernia High School cafeteria to watch what is usually an uneventful proceeding.
Monday night was different because in the past two weeks, local police have arrested no less than 10 La Vernia high school boys for the alleged sexual assault of more than twenty younger male students. According to arrest affidavits, various members of the school's' varsity teams had anally raped dozens of younger teammates with various objects, like a CO2 nozzle or pipe. The students reportedly called it "hazing." Police say this has been going on for more than three years, both on and off campus. On Monday, the local police department announced that it has handed the investigation over to the Texas Rangers.
For the sleepy ranch town of 1,172, located 25 miles southeast of San Antonio, it's the kind of scandal that leaves few unaffected.
"You can feel the tension around town, you can't avoid it, " said Martha Kizer, the mother of two La Vernia high schoolers and the principal of a San Antonio charter school. "Just look at the body language in this room tonight. I've lived here 17 years and never seen anything like this."
In the minutes before the 6 p.m. meeting began, parents sat in small, tight clusters, leaning in to listen to each other's whispers of speculation or to interject their own theories. Eyes darted nervously across the room as newcomers entered looking for a spot to sit. Few would speak to reporters. Aside from the median age of the crowd, the atmosphere resembled a regular high school cafeteria: tense, cliquey, and buzzing with emotion.
"These past few weeks have been extremely difficult...especially for our students," began LVISD Superintendent Jose Moreno. "Students have seen their classmates arrested, and friends. We have students who for the first time have spoken out about abuse. We have students who don't understand what's going on."
This was the first time Moreno had spoken publicly about the allegations. It was clear parents were clinging to his every word, waiting for any information that could explain what went on — and why it went uncovered for so long.
"People are mad, and I don't blame them. They want to know, 'Where where the staff members or the coaches when this was happening? How did they let this happen?'" said John Bilicek, whose kids graduated from LVHS years ago. As a former LVISD board member of six years, Bilicek says he feels the board is "in a really hard spot."

"There's nothing I can compare this to, in my experience on the board," he said. "It's something else."
On Monday night, it appeared many left without getting the answers they wanted from Moreno.
"The alleged behavior will be evaluated by the judicial system. We must have facts before we move forward," the superintendent told the crowd. "All children deserve due process and the privacy they're entitled to." Moreno told them he couldn't really say much more. Parents angrily whispered between themselves. Some who looked particularly frustrated walked out early.

Kizer, whose two children attend La Vernia High School, said it's clear many parents in the small community don't appreciate Moreno's tight-lipped approach.


"They think he should give us all the information he has, that they're entitled to it," she said. She also acknowledged, "but that's not how the criminal justice system works."

Bilicek says the allegations have cast a dark cloud over the district that local voters likely won't soon forget. He suspects they could take it out on the current board members when they're on the ballot this May election.

"This was a thriving and growing community," Bilicek said. "But who wants to move here now? One look online and you definitely won't move your kids here. There's a lot of healing to do."