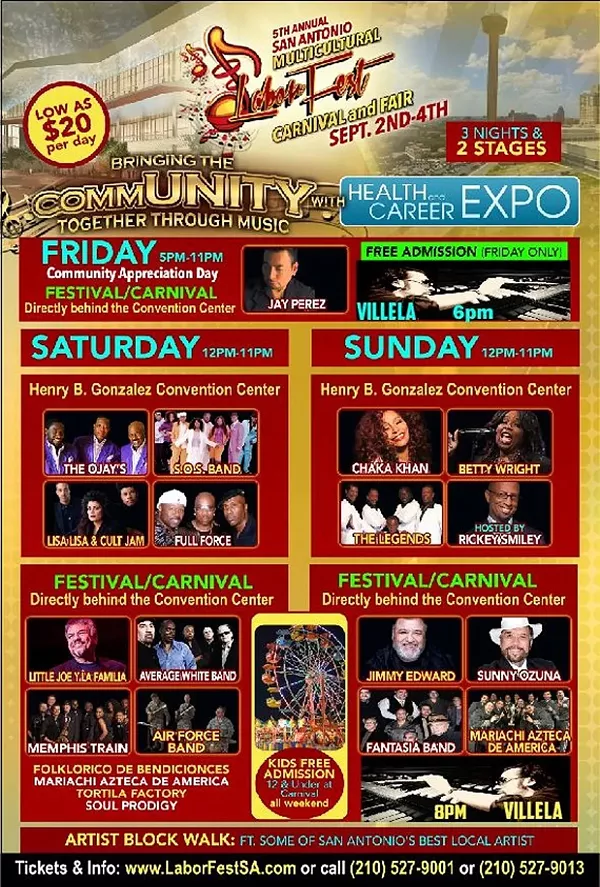 A local Labor Day music festival lineup that was supposed to include Chaka Kahn, Betty Wright and R&B trio The O'Jays was abruptly "postponed" after the festival's organizer couldn't pay the artists.
Festival attendees started
posting to LaborFest's Facebook page
and
complaining to local media
over the weekend after The O'Jays didn't show for their scheduled Saturday performance. Toby Ludwig, the group's manager, told us via email that The O'Jays were ready to take the stage when the local promoter told them he didn't have their payment.
Pricing for the Labor Day weekend festival
, which was held at the Henry B. Gonzalez Convention Center downtown and included a carnival and fair, ranged from $20 one-day tickets to $30 weekend passes and all the way up to "two day ultra VIP" packages for $425 per person that, among other things, guaranteed seating within the first few rows at all performances. On Facebook, several people said they traveled from out of town to see the lineup.
By Monday, once people who bought tickets realized the music festival's main draws were no shows, LaborFest CEO Larry Williams posted a long explanation to the festival's website and Facebook page, saying the festival's "full lineup had to be postponed due to some unforseen [
sic
] circumstances beyond our control that didn't at all involve money." In a bizarre message to ticket-buyers promising that "all will be revealed at a later time of the many adversities and obstacles that was endured," Williams also includes one minor detail that might explain why groups like The O'Jays pulled out: it appears Williams couldn't pay the artists up front.
In his message, Williams (who hasn't yet responded to our messages seeking comment) promises ticket-buyers that he's not a scam artist, that he didn't mean to ruin anyone's weekend, and that he's simply "a flawed Christian who made missteps trying to bring joy to people." It's unclear whether any of the other artists scheduled to appear on the bill this weekend actually made it to town before calling off their performances (we've reached out to several and have yet to hear back). As Ludwig, The O'Jays' manager, told us, "They lost a substantial amount of money traveling with their band and crew to perform the show and not be paid." He said the group apologizes to anyone who bought tickets expecting to see them perform.