Lance Henriksen on the set of Kevin and Robin Nations' family film "Champion," which is currently shooting in San Antonio. (Photo by Kiko Martinez)
Veteran actor Lance Henriksen (Aliens, The Terminator) is currently in San Antonio shooting the family film Champion. Directed by Kevin and Robin Nations, Champion stars Henriksen as a farmer whose relationship with his granddaughter is strengthen when she begins to train his cattle dog for an agility competition. During our interview on the set last weekend, Henrisken, 72, talked about how Champion is different than anything he has done in his career, and shared some news about an upcoming comic book he is creating for Dark Horse Comics.
You've been in this business for over 40 years. As a veteran actor, what do you think you bring to an independent film set like Champion?
Well, I have to tell you when I read the script for Champion I was laughing out loud. There's some funny stuff in this film. The thing I bring is connection. This is a different kind of script than what is done, say, by Disney. Disney panders. The kids are smarter than the adults. They save everyone and everything. This has a bit more reality in it. It's all about modern-day lack of connection or need for connection between families.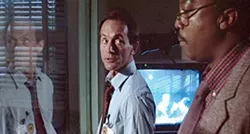 Henriksen as Detective Hal Vukovich in "The Terminator."
Is making movies still as fun as when you first started back in the early 70s?
Oh, yeah because it's always an adventure. You're always surrounded by new people. That group of people will never happen again that way. I really like that very much. I like the process used to make movies.
Your role in Champion seems a lot different than what we've seen from you in past films. Would you agree?
Well, I've played a lot of bad guys and good guys. But recently, there has been this whole new world opening up to me. Like with Champion, there is a lot of humor in it. I don't think I'm a comedian or even funny, but I think situations are funny. I'm very alert to situations. After this, my next project might be something by the same people that did The Office. It might end up being a comedy series. Comedy is something that has only opened up to me maybe once or twice in my career. Like I said, life is an adventure. We can turn the corner and our lives can change.
Lance Henriksen in a comedy could be very interesting.
Well, my whole life has been a joke
(Laughs)
Do you think that genre is going to come natural for you?
I think it will be a natural progression. I've been exposed to so many situations in life, especially with the intensity of movies. After you've gone through all that, your sense of humor really peaks.
Are you able to laugh at yourself?
Oh, yeah. I can easily take a pratfall and make myself look like a total idiot.
Well, you were recently in a film where your character is named Braineater.
(Laughs) That was more of an alimony film.
Alimony film? You mean
Yeah, where you have to pay your alimony, so you do it.
Most actors, I think, wouldn't admit to that. I think most would lie and say they believed in the project.
(Laughs) Yeah, sure, I believed in Braineater. That's going to move our society forward so much more.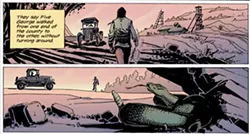 Sample from Henriksen's new comic book "To Hell You Ride."
Well, one thing I know you're extremely passionate about is the comic book your writing for Dark Horse Comics. Can you give us an update on the project?
Oh, it's a great comic. It's called To Hell You Ride. Tom Mandrake, Joseph Maddrey and I are working on it. We've been working on it for a year. The first issue is done, basically. We have five to do. We're starting on the second one. It's very original, so there's been a lot of work on all the details.
Did you grow up reading comic books?
Oh, yeah, things like Tales from the Crypt. Back in the day, those comics were gory. In the McCarthy Era, they told all the parents to burn the comics. I remember having a stack of comics and my family got rid of them. I remember thinking, "This is just wrong." If I still had those comics, I'm sure some of them would be worth $100,000.
What does it take to make a successful comic book in the 21st century?
Well, you can't compare it to anything that's happened since the birth of comics. What separates a good comic book from a bad one is the amount of detail and the amount of beautiful art. You don't have sound or a voice, so you have to be very specific with what you are presenting in pictures and captions. That's why we're taking so long with it. I don't want to come out with a mediocre comic.
Could you see this comic book getting adapted into a movie?
Oh, I want it to be a movie, yes. We're writing it that way. It's got a lot of good stuff in it. We want to give it respect and dignity.
Do comic-book movies specifically interest you? I mean, do you like the ones that have come out recently?
I'll sit there and watch them but the CGI bores me. And then there's all this violence and shit. Like the terrible thing that happen in Colorado
Bishop (Henriksen) meets his end in "Aliens."
You think violent superhero movies caused that guy to shoot up that theater?
What people are not talking about is that right now people are losing their homes, they have no jobs; there is a terrible uneasiness in the country financially. We don't know where anything is going. That causes things like [the Colorado massacre]. No one is talking about that and that offends me.
But back to violence in films – do you think that is part of the problem? You've make quite a few violent movies in your career.
But I was fighting aliens and things from other worlds and cultures like in Aliens and Terminator, so that made it benign and sterile. I don't think [the shooter] did what he did because of the movies he watched. I think he did it because our culture is so bad in a real way. When you have so much pressure on everyone about money and work, that creates stress. That causes a guy to isolate and find his own niche. It's just ridiculous.
I'll make this my last question since it's time for you to get on set: What do you think about your former co-star Arnold Schwarzenegger's return to the big screen?
I hope he's a better actor now than he was a governor because, I'm telling you, he was a shit governor.