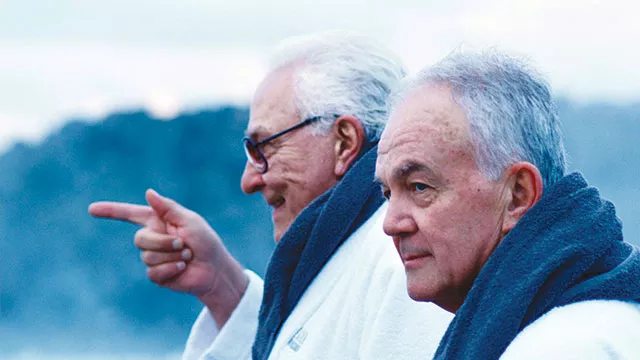 Andrew Reed, Courtesy OF Sony Pictures Classics
Old friends Mitch (Earl Lynn Nelson) and Colin (Paul Eenhoorn) cruise into the Icelandic wilds in Land Ho!
Note to makers of films such as The Bucket List, the recent Michael Douglas stinker Last Vegas, and the even more recent Michael Douglas stinker And So It Goes: Land Ho! is the template for movies about older people at pivotal points in their lives. It's sharp, funny and barely dips into sentimentality, with a pair of superb lead performances. Plus, the killer 1980s-inspired soundtrack moves the story along without treacle.
Mitch (Earl Lynn Nelson) is a retired surgeon, and Colin (Paul Eenhoorn) is his retired ex-brother-in-law. They're single—not by choice—and they haven't seen much of each other in years. What begins as a simple weekend at Mitch's house turns into a weeklong Icelandic road trip.
Colin, who doesn't have much interest in travel, has to be persuaded, but Mitch is the type of guy who doesn't take no for an answer. Plus, he just really wants to go to Iceland. (I can't remember why, but when he's reading the restaurant reviews of some of Reykjavík's finest culinary institutions, I also didn't care anymore.) As Land Ho! saunters on, it becomes clearer and clearer what the trip's purpose is, which is to spend time with someone you like. Nothing more, nothing less. From the way Mitch drawls on and on at various points—he has a strong Kentucky accent—it's clear that he's used to getting his way, and Colin, an erudite and reserved Australian, may be the only person around who can tolerate him. For Mitch, the trip is a way to rekindle their backburner friendship, and for Colin it becomes, unintentionally, a way to get—to paraphrase Mitch and Terry McMillan—his groove back.
The adventure starts off with a night in Reykjavík getting drunk and continues the following morning at the airport, picking up Mitch's young cousin Ellen (Karrie Crouse) and her friend Janet (Elizabeth McKee). The two Ph.D. students have been in Greenland for a month and are stopping by for a visit before heading back to the U.S.
Mitch is all for getting the women to buy nice clothes (their luggage was lost) before dinner, and the way he lays into them about their appearances is complete male chauvinism. How much do we need to hear an old man tell a young woman how to dress?
But writer-directors Aaron Katz and Martha Stephens neatly sidestep the potential ick factor by having Mitch lay into Colin about his appearance in exactly the same manner. It seems a little safe, but Land Ho! isn't about making people feel uncomfortable; it's about two old dudes who are set in their ways, for better or worse.
The night out for dinner and dancing—at the discotheque Colin ruefully notes he and Mitch are the oldest people there by more than a couple decades—ends with Ellen passed out drunk in bed and Colin and Mitch bunking together. But they seem to prefer each other's company anyway.
With the women back to the U.S. the following day, much of the rest of the movie is spent with Colin and Mitch driving into the Icelandic wilds in a Hummer. (Colin is prickly about the large vehicle.)
On the surface, nothing much happens in Land Ho! But the nothingness on the surface belies a quieter, deeper (though not much deeper) exploration of friendship. And friendship is something the movie gets right.
Our greatest friends, even the people we love most, can drive us nuts. For example, Mitch insists he and Colin go for a walk in the dark one night and the two get lost and end up sleeping on the prairie. It's one of those moments that other, lesser, movies would play up with a big fight and some misgivings about the nature of the relationship. But Land Ho! quietly gets on with things by having the men spend the next day apart, and they make up stoically by dinner time.
Even more than the screenplay, the performances are what make Land Ho! work so well. Earl Lynn Nelson, a relative film newcomer, has such a natural manner of speaking that he seems as if he's appearing in a documentary rather than a feature. Paul Eenhoorn, an actor with considerably more film credits (check out his performance from the 2013 indie This is Martin Bonner), is content to let Nelson's booming voice and outsized personality take center stage, but he never seems overshadowed. In fact, Colin's softer voice and pointed way of speaking are an appropriate balance to Mitch's magnitude.
As for Keegan DeWitt's soundtrack, the movie leans on it more heavily than it should, but its dated '80s sounds are perfect for the setting and these two codgers; music from the 1960s and '70s might have been more appropriate for Mitch's and Colin's ages, but it wouldn't have been nearly as much fun. And if there's an opportunity to use Big Country's "In a Big Country," why wouldn't you?
In the end, Land Ho! is like a perfect visit with old chums. It's sweet, bittersweet, and when it's over you wish it weren't.
Land Ho! (R)
Dir. and writ. Martha Stephens and Aaron Katz; feat Paul Eenhoorn and Earl Lynn Nelson
Opens Aug 29 at Santikos Bijou
★★★★ (out of 5 stars)