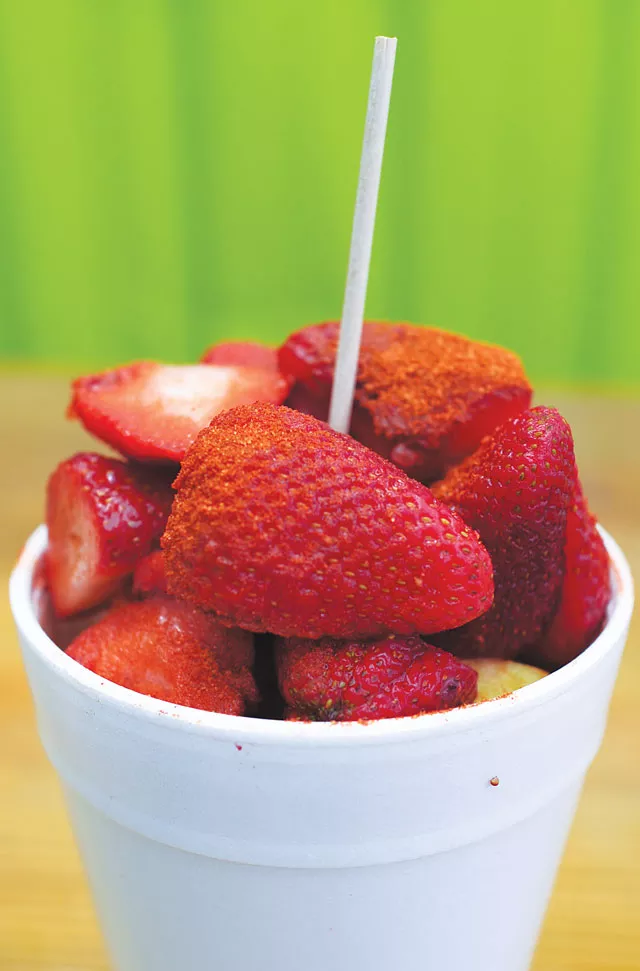 Will Lee
A strawberry-mango fruit cup — powdered with Lucas — from Las Nieves.
Las Nieves
4310 Blanco Rd (210) 735-9884

I first happened upon Las Nieves completely by accident, in a manner that recalls the great explorers of our time (Columbus, Lewis & Clark, Dora). I had just finished a puffy taco at Los Barrios and was on my way home when something caught my eye. A line of people that looked transplanted from Fiesta Texas appeared in my peripheral vision, coalescing in front of a small, vividly colored lime-green shed. My natural instincts as a Black Friday bargain hunter kicked in — I had to queue.

I found myself gravitating toward the building; I wanted to discover what could inspire such a frenzy at 8 p.m. on a Tuesday night. Standing in line, I was surrounded by an extremely broad and varied demographic, a group of people that could only be united by their craving for something delicious. It dawned on me at once. I had stumbled upon a local nexus of summertime snacking: Las Nieves, paletería extraordinaire.

A wonderful gift from south of the border, paleterías (rough translation: ice cream shop) can be found gently dotting the map of our city. A large sign showcases Las Nieves' wares: fruit cups, natural shaved ice, corn in a cup, ice cream ... the possibilities and choices were endless. I had seen shops like this before, but never on such a grand scale. I weighed my options and decided on a medium-sized cup of fresh strawberries and mango. I thought it would be a novelty thing to try — little did I know that it would immediately become one of my favorite things to eat in San Antonio.

Prepared daily, the fruit was exceptional — halved strawberries on top with large, moist mango slices on the bottom. People around me were ordering much more technically savvy combinations of items, but as a beginner I stuck with the strawberry-mango fruit cup as a safe bet. Las Nieves additionally recommends dressing the fruit with Lucas and lime, a foreign concept to me at the time, but one which is ultimately necessary to truly appreciate the difference between Las Nieves and a regular cup of fruit from H-E-B (see "Lucas," this page). I wolfed down that fruit cup in minutes; I was in dessert nirvana, and the icing on the cake is that fruit is healthy!

Since that fated day, I have been back to Las Nieves hundreds of times. Every trip is a treat, and I've never seen a dip in popularity. While many other paleterías offer decent fruit cups, Las Nieves goes above and beyond by offering huge portions for peanuts. I can't recall the last time I could walk off with nearly two pounds of strawberry, mango, and pineapple ($4 for the large cup) for less than the price of a "sixteen" (marketing-speak translation: small) at Jamba Juice. This is by far one of my favorite things to do in San Antonio year-round, and, if you haven't yet, something you must try now that temps are approaching 104 F. There are already people standing in line at Las Nieves as you are reading this. The closest comparison I can make is that it's like Disneyland … in your mouth.•
Definitions & Tips
Lucas Sort of a beer salt for your fruits and veggies. You may have seen Lucas-branded candy in the aisles of your local supermarket. This is not the same thing. A red powder known simply as "Lucas" is used as an adjunct to nearly everything Las Nieves serves: it is sprinkled liberally on fruit cups, shaved ice, freshly-quartered cucumbers, and corn in a cup. You can even choose to buy this magical red powder in little plastic baggies for 50 cents and attempt to recreate the magic at home. I would suggest asking for a small amount of Lucas to begin with, just to test the waters.
Fruit cups Choose from eight different fruits available. Combinations are welcome, sizes range from small to ridiculously large. I recommend trying the medium ($3) with light amounts of lime and Lucas to gauge where you stand. Strawberry-mango-pineapple is a wonderful starter cup. If you're adventurous, try branching out to papaya and watermelon.
Corn in a cup Warm kernels of corn, topped with cheese, mayonnaise, red spice, and Lucas. A perennial favorite, and available at many places around San Antonio. You control the amount of spice and Lucas the vendor adds, so tread carefully!
Ice cream Las Nieves serves homemade ice cream, priced at $1 for a one-scoop cone. They have a variety of flavors and you can also request a scoop be added to nearly any item on the menu — but no guarantees on how it turns out.
Chango A "sour" snow cone made from crushed ice, pickle juice, chamoy, and (what else?) Lucas. Unbelievably sour and refreshing, this is a very particular taste. If you find yourself drinking the lime/fruit/Lucas juice at the bottom of your fruit cup, you should order a small Chango at your next Nieves encounter.
Natural fruit shaved ice This is so good they named the entire store after it. A finely shaved ice with actual grains of natural fruit, it bears fantastic flavor and is refreshing without being overly sweet. A chef friend of mine suggested it's most likely made by pureeing the fruit, freezing it, and then shaving it down again. A must try. I recommend getting three or more of the dollar cups and trying all the flavors. Don't forget to ask for Lucas on top for that extra kick.
Also worth a look
Fruteria Las Gueras
4823 Evers Road
(210) 432-9472
El Paraiso
1934 Fredericksburg Rd.
(210) 737-8101
Los Cocos Fruteria y Taqueria
1502 Bandera Rd.
(210) 431-7786
Fruteria La Mission
553 E White
(210) 922-2997
Fruteria Tres Hermanos
3206 West Ave.
(210) 320-6087
Erick's Tacos
12715 Nacogdoches
(210) 590-0994