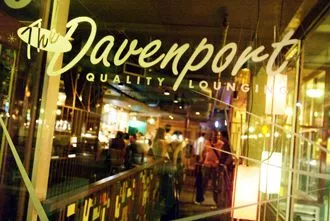 The Davenport
200 E. Houston
354-1200
Wednesday nights at the Davenport generally attract big, festive crowds of committed dancers. On Wednesday, December 20, the numbers were even bigger than usual, but there was a bittersweet undercurrent to the dance-floor epiphanies.
Many longtime patrons stopped by the hip downtown bar that night to say goodbye. They'd heard that New Year's Eve would be the Davneport's closing night, an abrupt end for an establishment that has revitalized the local DJ club scene and injected a much-needed dose of energy into downtown nightlife.
"It's a devastating blow to the town, as far as music is concerned," says Gibb Diaz, aka DJ Gibb, who worked turntables at the bar's basement music venue and handled booking and promotions for the club. "It started a lot of our careers. I know it started mine. We bring down DJs from Austin, and I have Austin DJs asking me to play there. To think that it's not going to be there anymore, it's just unreal."
The demise of the Davenport is the result of a long-simmering battle between husband-and-wife bar owners Bruce Cooper and Jackie Saha and the building's landlords, Majestic Development Company. According to Cooper, the conflict reached critical mass in August, when Majestic Development took advantage of the fact that Cooper and Saha failed to exercise a five-year lease option within the agreed-upon 180-day window.
The landlords had done little to hide their disdain for the Davenport's music, decor, and general atmosphere, and according to Cooper, they used the lease-option loophole to pressure Cooper and Saha out.
"They wanted us to change our clientele, either not have music, or definitely not do music the way we're doing it," Cooper says. "Our employees had to dress to their satisfaction. We would have had to redecorate the bar, again to their satisfaction. They had a vision for it that didn't conform to what it was. So they saw this as their opportunity to make us conform or bring in somebody who would."
In August, Cooper and Saha received a letter from Majestic Development, informing them that their lease expired in November and that they were expected to return the building's keys at that point. A protracted legal tete-a-tete ensued, but as Cooper says, "Contractually, they have us."
Diaz says Cooper and Saha always did their best to calm any legitimate concerns from Majestic Development. "The tenants upstairs were complaining about the sound, so we reduced our sound, and Bruce and Jackie even offered to rent out that space, so there would be no more complaints. But `the landlords` were unwilling to work with them."
The Davenport opened in February 2002, and quickly became a haven for the city's most talented and creative DJs. Cooper and Saha initially envisioned it as a quiet lounge, much like a Davenport bar they opened 10 years ago in Houston. But the large downstairs space convinced them to turn the bar into a dance club.
The Davenport earned a reputation for nurturing and supporting local talent, and hosted the likes of the Diggindeepquartet, DJ Jester the Filipino Fist, and Theory of Everything. Diaz's four-turntable Supa Saturday showcases with DJ Donnie D helped make the club a renowned source of dance-floor bliss, but it was the inviting ambience of the venue, as much as the volume of its business, that set it apart.
"The Davenport was always known for having the best DJs," says Angel Moreno, a frequent Davenport patron. "It's also always been a real chill environment. You weren't going to get into a fight with anybody. Everybody was pretty laid-back, it was real classy."
"You get this kind of entertainment, this kind of talent, and it's a cozy bar," Diaz adds. "The atmosphere is great, the people are great, obviously the music is awesome. I can't think of another place to go that's like the Davenport."
Diaz started working at the Davenport at the suggestion of his friend, DJ Jay Lopez, who handled promotions for the bar. Lopez urged Diaz to create a Wednesday-night gig at the Davenport. The night became a huge success, and two years later, Lopez asked Diaz to book talent for the club.
"Jackie and Bruce were extremely supportive," Diaz says. "We had 100-percent creative control of the entertainment. Bruce said, 'Do what you think works.' Every single suggestion, every single comment, any piece of constructive criticism, Bruce took it into account and immediately acted upon it."
Cooper and Saha do not rule out the possibility of reopening the Davenport at a new location, but no such move is planned. As a result of the Davenport closing, Cooper and Saha are moving their family to the piney woods of Lake Sam Rayburn, so their involvement in a new Davenport would be limited to consulting assistance.
Diaz, who calls the bar "my main gig," still sounds shell-shocked by the news of its closing.
"I just found out last week," he says. "I really don't know what I'm going to do. I had parties booked there all the way to February. The Davenport closing is the last thing I would expect to hear."