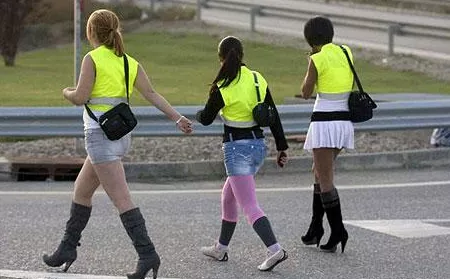 Ah the Europeans. Our kinder, more liberal neighbors across the pond. When this article hit my inbox a few days ago, I began prowling for a safety vest to complete the ultimate Halloween costume: Spanish prostitute.
It's important to note that the pros are not being targeted because of the work they do, but because the pose a dangerous threat to motorists AND themselves. Have you ever had to wipe dead hooker parts from your car? I can only guess it's no fun at all!
As a fashion trend for ordinary folk, I see this as the beginning of a futuristic, modern look. In many sci fi movies, everyone wears shiny, metallic clothing. Could Spain be on the verge of a brave new world, set in lovely Catalonia?