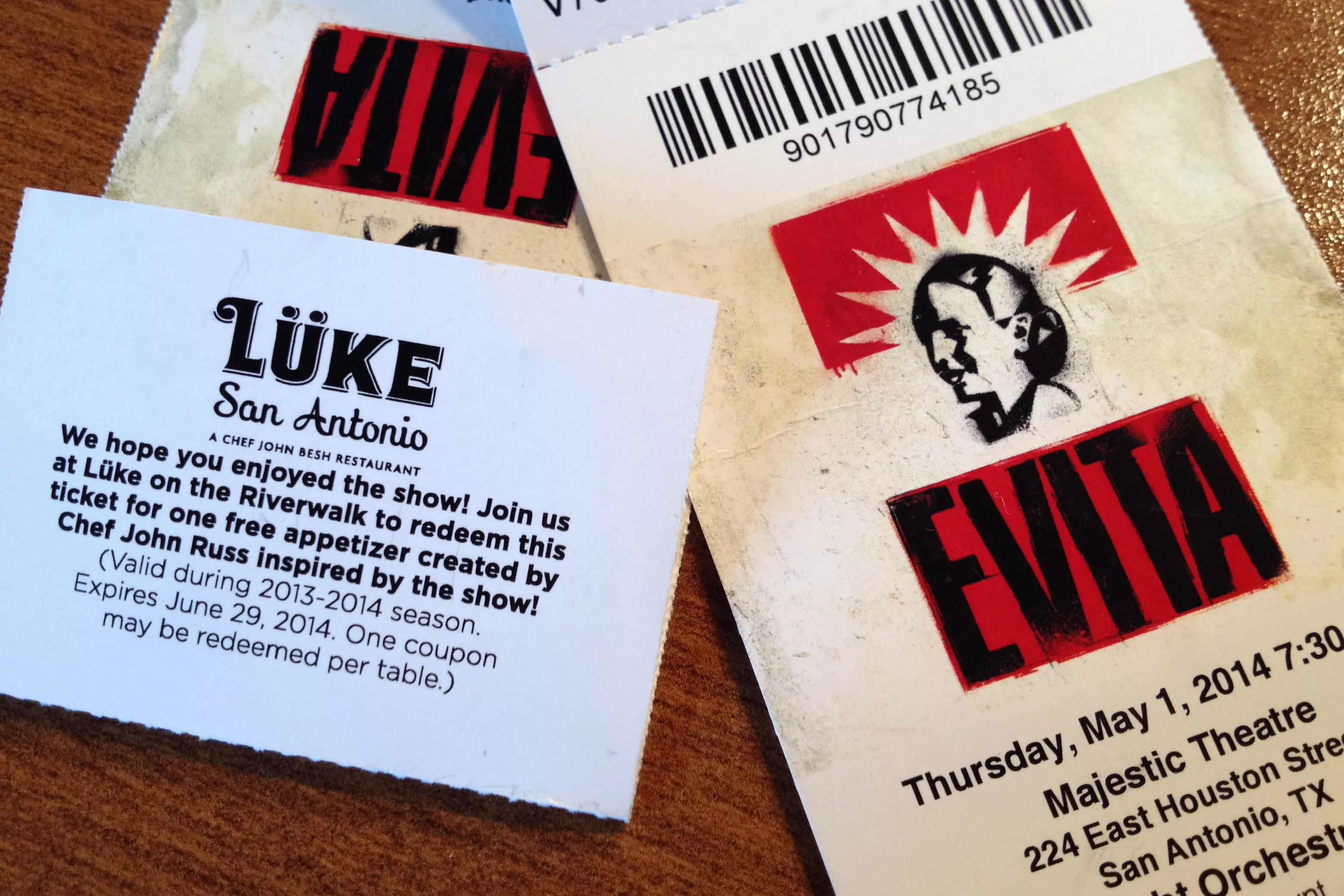 "We hope you enjoyed the show!" Lüke tells me, via the back of my ticket to Evita at the Majestic. Thanks, we did! "Join us at Lüke on the Riverwalk [sic] to redeem this ticket for one free appetizer created by Chef John Russ inspired by the show!" OK, don't have to tell me twice!
It's 10:01 p.m. on a Thursday night. My heart is full of Evita-inspired emotions, my blood is full of $8 Majestic champagne, my stomach is decidedly empty and my hopes for delicious food within walking distance are high, thanks to the grammatically questionable promises made on back of my ticket.
Promises that would end up being as empty as my tummy.
You see, Lüke's kitchen closes at 10 p.m. on Thursday nights, which, most unfortunately, coincides almost precisely with the final curtain to grace the Majestic's stage for many evening shows—last night's included.
But why didn't just we eat beforehand, you ask? To safely make a show that starts at 7:30 p.m. and allowing 15 minutes of pre-show seat-finding and champagne-purchasing, you'd have to eat dinner at about 5:45. Since I work until 6 p.m., and because I'm not 80 years old, that just ain't gonna work.
But Lüke isn't the only restaurant in Downtown, nor is it the only establishment I'm planning to call out. My disdain parade shall continue thusly:
Following the crushing disappointment of Lüke's early bedtime, we march indignantly but confidently toward Esquire. They'd never let us down over there. I'm already dreaming of shrimp toast. But not five minutes later, we're getting the same story: Kitchen's closed.
By now we've wised up and start making some calls while traipsing about Downtown. Kimura? Nope. Bohanan's? Yes!—Wait, just kidding, no. (Sir who answered the phone: Don't play with my heart like that.) Acenar, for godssake? (Obviously, things are getting really desperate.) Nada.
Ultimately, Zinc comes through. Bless you and your delicious burger, Zinc. But really, 10 p.m., on a Thursday, immediately following a show, and there's ONE decent walking-distance restaurant to be found?
Don't cry for me, San Antonio, but the truth is I think we deserve better.