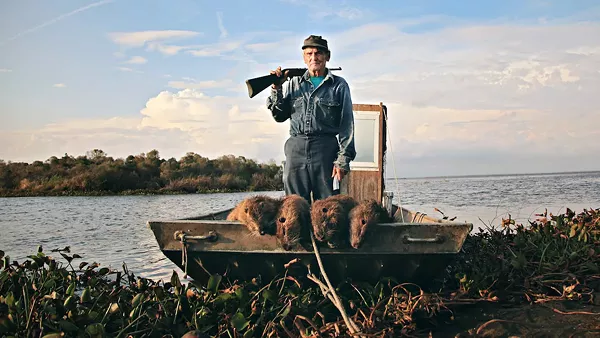 It's man vs. swamp rat in
Rodents of Unusual Size
, an award-winning documentary about the invasion of coastal Louisiana by hordes of "nutria" (or "coypu"), a semiaquatic beaver-like rodent native to South America that can grow up to 20 pounds.
To give the nutria a little credit, most people probably wouldn't consider them as grotesque as the ROUS that Westley and Princess Buttercup have to battle in the Fire Swamp in 1987's
The Princess Bride
. Still, the monstrous mammals featured in the doc aren't very innocent. They can destroy wetland habitats at alarming rates. In
ROUS
, co-director Chris Metzler follows the nutria through the Louisiana swamplands and also tells the stories of the local citizens who are doing everything possible to defend their communities and livelihoods from the invasive species. This includes participating in a state-sanctioned program that pays them a $5 bounty for each nutria they kill and supporting new companies that are in the business of harvesting the rodents for its fur and meat (foodies describe it as having a taste between turkey and pork). Metzler will be in attendance and answer audience questions after this one-night-only screening at Alamo Drafthouse.
$13.79, Thu Nov. 29, 7:30pm, Alamo Drafthouse Park North, 618 NW Loop 410, (210) 677-8500, drafthouse.com.

Get our top picks for the best events in San Antonio every Thursday morning. Sign up for our Events Newsletter.