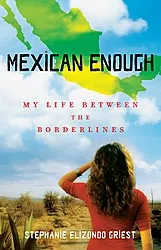 I recently read a book entitled "Mexican Enough" by Stephanie Elizondo Griest.  Obviously, the title caught my eye because I often wonder if I am, you know, Mexican enough.  And who gets to decide? 
The book is essentially a travelogue, a documentation of experience by a half-Anglo, half-Mexican, but fully American female voice.  A twentysomething Stephanie decides to spend a full year in Mexico, learning about her Mexican roots, language, culture, food, and people.  But what she finds in Mexico leads her beyond the simple facets of everyday life and into the throes of an all-out political revolution.  The book is inspiring, thought-provoking, and fascinating – so much so that I just spent my humble – but very humble – savings on a 5-day trip to the same place: Mexico City.
I'll be in Mexico City, or Distrito Federal – DF – as it's more commonly known, for the bicentennial of Mexican Independence Day (September 15th to September 20th).  That is, I'll be there for the 200th anniversary of the most important day in Mexican history.  According to mexonline.com, "The Bicentennial or Bicentenario actually takes in two celebrations: the first being the Bicentennial of two hundred years since Independence (1810) and the second the no less important Centennial of 100 years since Mexican Revolution of 1910." 
I feel overwhelmed with emotion when I ponder these facts.  As a woman who has only come to truly appreciate her Mexican heritage over the last 10 years, I feel grateful to go back to the place where my grandparents were born, to begin to formulate a deeper understanding of our history, and to live and breathe my culture in its purest form.  And all at once, I feel ashamed to think that I was once resentful of where I came from and who I was.  But this Westsider doesn't know that Shame anymore. 
Do people stay in the barrio because of a lack of awareness?  Are they secure?  Or are they simply comfortable?  A loaded sequence of questions.  Unfortunately, I don't believe that there are right answers to questions like these.  I think that families who have chosen to leave their roots planted on the Westside do so for a wide variety of reasons, even on purpose.  If there is a lack of awareness, is the decision to remain unaware of life beyond the borders of a 10 mile radius a purposeful one?  And what is the community unaware of, exactly?  Is being unaware linked with being ignorant?  Are you supposed to move away when you are suddenly "aware" of the unknown? 
When I drive through those neighborhoods (read: when I miss Home), I see the same faces that were there when I left ten years ago.  The same rugged, tired, faces of men whose skin is so leathered and worn by the years spent working under the piercing San Antonio sun.  The don't-fuck-with-me scowls of teenage girls who think you're staring at their boyfriends.  The wise, knowing looks of every viejita you see walking slowly down the street – the ones with all the good stories to tell (in their language, not yours).  They're all still there. 
But it's not depressing, and it's not disappointing.  It's a reminder that there is a community of people in the world who made a choice to keep something of their own.  They could have left, but they never did.  And maybe they never will.  At least I hope they won't, because I take comfort in knowing that you can go home again.