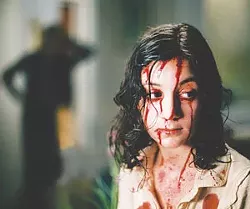 Let the Right One In
Director:
Tomas Alfredson
Screenwriter:
Tomas Alfredson
Cast:
KÃ¥re Hedebrant, Lina Leandersson, Per Ragnar, Henrik Dahl, Karin Bergquist
Release Date:
2008-11-19
Rated:
R
Genre:
Drama
Raw and unstaunched, Swedish film Let the Right One In provides a perfect antithesis for Twilight's animal-blood-drinking "vegetarian" vampires. The upcoming Hollwood-groomed treatment of Stephenie Meyer's dusky Anne Rice for iPhone-texters depicts undead bloodsuckers as sparkly-eyed fantasy boyfriends. But for Let the Right One In's Oskar (Hedebrant), a callow prepubescent weakling, making time with the mysterious nightwalker next door plays out like the worst possible Craigslist encounter — his immortal intended Eli is dangerous, sexually ambiguous, and posing as a 12-year-old girl.
This emotionally damaged eternal tween with a violent bloodlust is a smart match for Oskar, though, who's got issues of his own. Small and constantly tormented by bullies, Oskar relieves his impotent rage by imagining himself a merciless murderer. At night, he stabs a knife into a tree outside his apartment, commanding it to "squeal like a pig." Observing from the shadows, neighbor Eli becomes intrigued, recognizing in Oskar's alienated rage either a common spirit or possibly a scarred and spiteful worldview s/he can manipulate.
Eli's seduction of Oskar through a combination of gory killings and early-stage adolescent sex play provides an unsettling if not particularly horrifying viewing experience. The murders Eli's caretaker Håkan (Ragnar) commits to provide the blood to keep the vampire alive are workmanlike and methodical. He quickly kills victims then begins draining their blood with the dispassionate attitude of a butcher trimming the fat on a steak, and he offers a glimpse at Oskar's bleak inhuman future should he fall for Eli. The vampire's murders are expectedly more savage but still executed with an animal efficiency in the interest of pure self-preservation. The film, adapted by Lindquist from his novel, never offers anything scarier than a few disturbing images and unnerving subtexts, but Hedebrant's Oskar is disquietingly true to life as a child so dissociated from humanity that he's willing to romanticize a creature that slaughters mankind like cattle. See this subtle but unrepentantly misanthropic film now before a planned Amercanized remake renders it a goth-y, jump-scare-dependant poutfest.