Unlike other events of its size, Alamo City Comic Con is an engine propelled by two dedicated founders, Apple and Amanda De La Fuente, and facilitated not by corporate backing but an army of volunteers that they consider a "second family." With attendance that's reached 105,000, ACCC has cemented its place as a major player in the con scene, and things are only looking up.
It's not a comic con without a smorgasbord of celebrity appearances, and this year Alamo City has not held back. Regular attendees will recognize several returning faces, including John Barrowman (
Arrow
,
Doctor Who
) and Sean Gunn (
Guardians of the Galaxy
). Representatives from the shows
Game of Thrones
,
Agents of S.H.I.E.L.D.
, and
Luke Cage
will be in attendance, not to mention enigmatic zaddy Jeff Goldblum (
Jurassic Park
,
Thor: Ragnarok
) and social-media maven Cole Sprouse (
Riverdale
).
But ACCC isn't only about promoting properties that are currently onscreen, which can sometimes make big cons feel like marketing fests rather than fan-inspired celebrations. Instead, this year is about all things retro, bringing together the people behind a myriad of stories that serve as major cultural touchstones for millennial geeks.
To that end, the guest list is replete with stars from smash hits of the '80s and '90s. Many of these celebs — like clawed, dream-stalker Robert Englund (
Nightmare on Elm Street
) and famed first officer (and chair hopper) Jonathan Frakes (
Star Trek: The Next Generation
) — make regular appearances at fan events, but ACCC has also nabbed a slew of guests that are rarely seen on the convention circuit.
Most notably, the con has made quite the coup with two of its VIPs, to the delight of fans. Two major icons will make their pilgrimage to San Antonio this year: reclusive comedian Rick Moranis and action-movie royalty-turned-politician Arnold Schwarzenegger.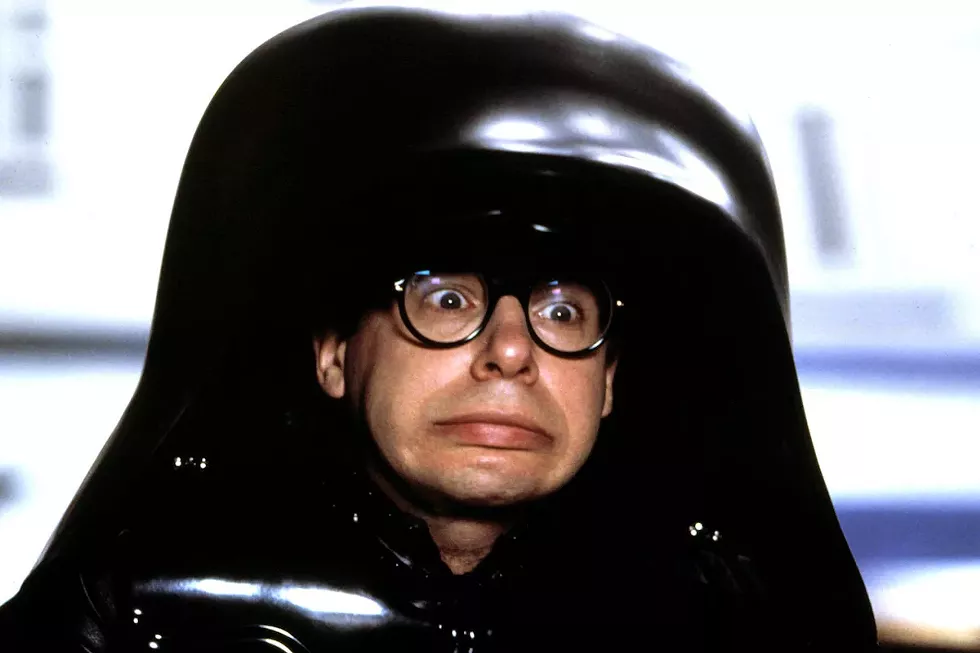 Brooks Films
Spaceballs
After staying out of the spotlight for twenty years, Moranis began to reenter public life in 2017, and agreed to make his first-ever comic convention appearance at ACCC. Beloved by science fiction fans, Moranis gave career-defining performances in 1984's
Ghostbusters
and 1987's
Spaceballs
, in which he starred alongside fellow ACCC guest Daphne Zuniga. Those lucky enough to score Dark Helmet VIP passes before they sold out will get all the tricked-out access, but individual photo ops and autographs are available for anyone still looking to meet the Keymaster.
Similarly, Schwarzenegger's ACCC appearance will be the first time the star and longstanding Trump critic will be available for fan interaction at a con, so this is the place to get that
Terminator
fix you've been craving. Like Moranis, he also took a break from a wildly successful Hollywood career, but instead of retreating from the public eye, he served two terms as California's governor. Post-politics, he has resumed acting, including returning to his cybernetic roots in 2015's
Terminator Genisys
and an as-yet untitled
Terminator
reboot currently slated for a 2019 release.
Twentieth Century Fox
Say Anything
A scan of the guest list reveals a lot of synchronicity that's not apparent at first glance. In addition to Moranis, Zuniga costarred with another fellow guest, John Cusack, in 1985's
The Sure Thing
, and Schwarzenegger is joined by his
Conan the Barbarian
costar Sandahl Bergman. Three of
The Craft
's witches (Fairuza Balk, Rachel True, and
Scream
queen Neve Campbell) and nine of the boys from
The Sandlot
will reunite, and Disney megafans have the unique opportunity to see the actors behind classic Disney princesses and princes Ariel, Belle, Jasmine, Pocahontas, Eric and Aladdin, as well as original Tinkerbell Margaret Kerry, all under one roof. And that's not all — hot off of the show's 25th anniversary,
Batman: The Animated Series
cast members Kevin Conroy, Loren Lester and Diane Pershing will also come together at the con.
However, it wouldn't be a true celebration of retro science fiction and fantasy without repping some classic Spielberg. Enter Henry Thomas, San Antonio native and breakout star of
E.T. the Extra Terrestrial
. He makes his homecoming on the heels of the premiere of his most recent project, Netflix's series adaptation of Shirley Jackson's
The Haunting of Hill House
, in which he stars as patriarch of the doomed Crain family. Joining Thomas are his
E.T.
costars Dee Wallace, C. Thomas Howell and Robert McNaughton, which makes for yet another classic film reunion at ACCC.
While many fans were excited to meet Paul Reubens — whose alter ego Pee-wee Herman famously uttered, "I remember…the Alamo" — this year, he unfortunately had to pull out of the con earlier this month. While mum regarding the reason for his cancellation, he expressed his sincere regrets, and assuaged fans' concerns with a lighthearted tweet that assured he is doing just fine, accompanied by a tentacular gif of actor Michael Rooker (who himself will be returning to ACCC) in Slither.
Alamo City's founders don't neglect the true roots of comic con, though, and they've put together a full slate of heavy-hitting comics illustrators, inkers, and pencillers to prove it. This year's VIP artist is the prolific Jim Lee, who has produced major works in the DC canon and now serves as the publisher's COO. Joining Lee is his longtime inker, Scott Williams, as well as one of his Image Comics cofounders, Whilce Portacio, who's also a Marvel and DC veteran.
Marvel Studios
Guardians of the Galaxy
From outside the comics bubble come Hugo Award-winner and San Antonio local John Picacio, a science-fiction and fantasy artist who has worked with notable authors like Dan Simmons and George R. R. Martin, and legendary
Star Wars
concept artist Colin Cantwell, the man behind the iconic X-Wings, TIE fighters and Death Star. Fans should be on the lookout for artist exclusives made specially for ACCC, including a never-before-seen War of the Worlds/Schwarzenegger crossover by
Star Wars
and
Magic: The Gathering
illustrator Dave Dorman.
Unsurprisingly, ACCC's meteoric growth has finally propelled it out of the Henry B. González Convention Center this year. Inaugurated in 2013, the con was starting to burst at the seams by 2016 and was forced to schedule months earlier than its usual fall slot in 2017 in order to get on H.B.G.'s books.
Luckily, the De La Fuentes found their new venue just across the highway, even if the choice may seem a bit unconventional. It's somewhat atypical for a comic con to be held in an arena, but that fact just propelled the pair to pull out all the stops when it came to ACCC's use of the space.
While the main level of the Alamodome has a major footprint — especially with those pesky stadium seats removed — ACCC is taking over the top two floors of the arena, with areas cordoned off for lounges and an artists' showcase. The festivities will also spill outside with live music, food trucks and a "celebration of cars in comics," so you can step out for some fresh air and a snack while remaining immersed in all things geek.
Panels will be held in multiple rooms, but the jewel in ACCC's crown is the Alamodome's recently completed multipurpose room. "It's a new room that was only utilized during the [NCAA] Final Four for media," Apple said, so ACCC will be the first event to really "show it off." They hope to seat anywhere between 1,500-2,300 attendees for panels in the 24,000-square-foot space.
One of the most exciting and unique additions for this year's con is a live feed of major panels and events that will be streamed on the Alamodome's four massive, hi-res screens. According to Apple, the wide-open layout of the main floor makes it easy for attendees to "walk around the aisles and still catch a panel up top," which he says "has never been done in a comic-con setting."
While it may not beat being in the room, this will give con-goers a chance to have their cake and eat it too while they roam the arena, not to mention serving as a pretty good time-killer while waiting in line to meet celebs. No matter where you are, Amanda says, you can "feel immersed in all the action" in a way that hasn't been seen on this scale at other cons.
However, the move to the Alamodome unfortunately comes with an added inconvenience: heightened security. The venue's own policies may have prompted this change, but a shooting in August at an EA-sponsored Madden NFL tournament in Jacksonville, Florida, proved that nerdy havens certainly aren't immune to acts of violence.
The Alamodome instituted a clear bag policy in 2017, akin to the policies that have sprung up at NFL stadiums nationwide, but Apple and Amanda quickly realized that the strict bag type and size requirements would create an issue for con-goers, who often bring their own items to get autographed, plus cosplay props and supplies. The De La Fuentes worked closely with the Alamodome staff to adapt the policy so that security can be maintained in such a way that minimizes the effect on attendees.
The updated bag policy allows for totes, drawstring bags and diaper bags, but disallows full-sized backpacks, which Amanda notes is less due to size and more to the preponderance of "secret compartments" that could conceal small items and would be difficult for security to efficiently search at the door. On the bright side, there's nothing stopping you from buying a backpack from a vendor inside the con and using it to stow away merch, art and other treasures you find while there.
Also important to keep in mind, especially for first-time cosplayers, is that all props and faux weaponry must be made of plastic or foam. While it's tempting to trick out your Stranger Things cosplay with an old wooden bat or use real metal claws for a rockin' X-23, these would be confiscated at the door. If anything seems questionable, your best bet is to imagine you'll be headed through airport security — if it won't fly there, it won't fly here.
While we're talking logistics, you'll want to keep a cool $20 on hand for parking at the Dome. That may seem steep, but it's a low price to pay for access to a large, conveniently located lot, and anyway, downtown parking near H.B.G. was similarly priced and harder to find. If that's still too rich for your blood, VIA has partnered with ACCC to offer its Park-And-Ride service for the weekend of the con.
While ACCC's major growth comes paired with a few inconveniences, the big upgrades make it well worth any small annoyances. This year's con has certainly shaped up to be a can't-miss celebration of the growth of fandom worldwide, as well as the nerdy foundation on which Alamo City and its ilk have been built.
$10 (child's pass for ages 6-12), $40-$55 (one-day pass), $90 (three-day badge), $155 (flash pass), $150-$1,250 (VIP packages), free for kids 5 and under; 3-8pm Fri, Oct. 26, 10am-7pm Sat, Oct. 27, 10am-6pm Sun, Oct. 28, Alamodome, 100 Montana St., (210) 207-3663, alamocitycomiccon.com.

Get our top picks for the best events in San Antonio every Thursday morning. Sign up for our Events Newsletter.