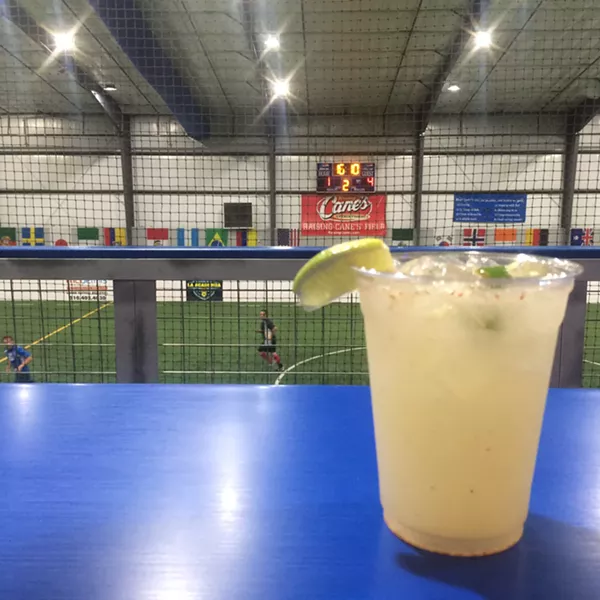 The Manuel Antonio ($7) at Upper Deck Sports Bar
Of all the ways in which Upper Deck is different than a traditional sports bar, the most noticeable is its location. Near the convergence of 1604 and I-35, in the Live Oak area, there is a massive indoor soccer arena called Soccer Zone. The 30,000-square-foot warehouse has a full-size indoor field, training field, workout facility, concession stand, bleachers, several party rooms and an inflatable bounce house, just for good measure. On the second floor of that arena is Upper Deck Sports Bar, a tiny watering hole run by Marilyn Elder, herself a regular at the facility.

The operation is a compact one, though Elder knows what she's doing and has a committed clientele. Every night the indoor field hosts a game pretty much every hour, meaning there is plenty of waiting before and after competitions. Teams of athletic men and their young families often find their way to the outpost after their games, lounging and shooting the shit as they watch the next matchup from the convenient crow's nest. As the night wears on and more games finish, the crowd grows louder and larger and drinks begin flowing.

The offerings are designed to appeal to groups: Beer buckets of six range from $10 for domestics to $18 for imports, while beer towers offer 100 ounces of anything on tap, starting at $20 for Miller Lite and climbing to $32 for Dos Equis. The selection of cans is standard, though Elder has expressed interest in sourcing more local beers, something her Busted Sandal, Branchline, Freetail and Karbach cans attest to. For a tiny bar run from the second floor of an indoor soccer field, Elder has high expectations for her drink program.

Though the lounge does not have a liquor license, it does serve a host of mixed drinks made with Tekeen, a wine cocktail. Though sporting the modest ABV of wine, the Dripping Springs-made faux-liquor allows Upper Deck to serve cocktails that mirror the real thing in everything but potency. The Manuel Antonio ($7), a refreshing cucumber lime concoction made with mojito mix, was tart and spicy, providing a refreshing foil to the stale air of the arena. The Puerto Limon, a drink made from passion fruit Tekeen and a house passion fruit puree, is one of their most popular drinks, and like all the cocktails, can be made into a pitcher for $15.

Though untraditional, Upper Deck is a lot of fun. The atmosphere is buzzing with adrenaline, yells, toasts, high fives, smiles and laughter. If you're in the area, or if you are in the mood for some cheap entertainment (admission is free), Upper Deck is the perfect place to get a cheap buzz on surrounded by a welcoming, rowdy crowd of friends.

8020 Pat Booker Road, (512) 554-1749.

For more, follow Mark on Instagram and Twitter.