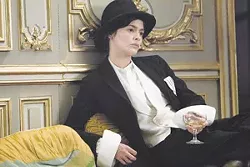 Over a cocktail, Audrey Tautou ponders the next article of clothing to abduct from her lover's closet.
Coco Before Chanel
Director:
Anne Fontaine
Screenwriter:
Anne Fontaine
Cast:
Audrey Tautou, Benoit Poelvoorde, Allessandro Nivola
Release Date:
2009-11-04
Rated:
PG-13
Genre:
Film
Our Rating:
4.00
The story of Gabrielle "Coco" Chanel is without a doubt France's favorite fashion fairy tale. Born in a poorhouse to unwed parents in 1883, Gabrielle Chanel was dumped at an orphanage after her mother died of tuberculosis. She was 12.
Director Anne Fontaine opens the film with Albert Chanel bidding adieu to Gabrielle and sister Adrienne, promising to return for them one day. This never happens.
After some longing moments in which Gabrielle gazes intently at the starched cuffs of the nun's habits and the red dresses that seem to be given as parting gifts to the lucky girls who are adopted, the film jumps 15 years into the future.
Gabrielle and Adrienne are working in a tavern in Moulin, France, alternately singing embarrassing songs (like "Qui qu'a vu Coco dans le Trocadero?", a song about a missing dog, which provides Chanel with a nickname she can't shake) and entertaining rowdy gentlemen. Etienne Balsan (Poelvoorde), a visiting playboy, is taken with Coco's cynical attitude, and her refusal to flirt with him, and the two have a brief affair before he returns to his estate outside Paris.
When Adrienne meets a Baron who promises to marry her, she leaves for Paris, and on a whim, Coco goes in search of Balsan. Although treated like a prostitute, Coco quickly installs herself in his life. She goes from hiding when guests are present to coyly integrating herself into social situations by appearing at Balsan's drunken parties in dresses she's made by cutting up and reconfiguring his old shirts.
Balsan tries to rid himself of Coco a number of times, only to be outsmarted. When her coach arrives, Coco sends the driver away, then slips into Balsan's riding clothes to trot out and crash his snobby picnic in the woods.
Strategically, Coco steals Balsan's most useful friends, actress Emilienne d'Alençon (Devos), whom she woos with her hat-making abilities, and Arthur "Boy" Capel (Nivola), a handsome English polo player.
Boy casually "borrows" Coco from Balsan and the two fall in lust. As Coco allows herself to express joy for the first time in the film, it becomes impossible not to recall Amelie, a character Tautou has worked hard to divorce herself from.
With much help from Boy (he loans her money to open a shop in Paris) and Emilienne (who sends her rich friends to shop there), Coco deserts Balsan just as he is falling for her. What begins as a peculiar arrangement morphs into a touching what-could-have-been moment. If this sounds corny, it's not: The dynamic is believable, and the evolution of their relationship is fascinating.
In Paris, Chanel quickly finds her niche rethinking the way women dress. She removes feathers from hats, corsets from dresses, and heels from shoes to create a no-nonsense look that would include the word's first "little black dress."
In the closing sequence, Coco watches an endless train of models descending a staircase. Tautou straightens hems, surveying her life's work with a cigarette dangling from her mouth.
While Fontaine succeeds in showing the humble beginnings of a woman who would become the world's most influential force in fashion, she leaves the viewer hanging a bit, just when the candy arrives (the costumes are impeccable). Tautou also seems to be just getting into the groove of the Chanel we know from photographs.
One has to wonder, will there be a Coco During Chanel, chronicling the designer's "horizontal collaborations" with the Nazis? And then, of course, Coco After Chanel, in which the designer rolls over in her grave as Karl Lagerfeld busts out sequined Chanel scuba-diving jackets and shredded tulle skirts.
— Bryan Rindfuss