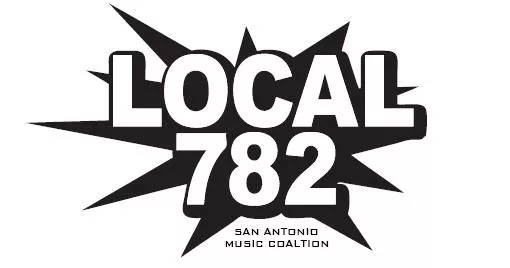 I like loud music. Not just the sonic stuff turned up to an enveloping, earsplitting level, but music that needs to be tremendously loud in order to function at all. Like a singer with a dominant command of the upper octaves, there's a dexterity in pushing amps to their breaking point. It's also pretty cool to be wrapped entirely in sound, when barroom conversations dim and all ears are forced open.
Friday night at The Mix, SA trio Filthy were loudness incarnate, with guitar, bass, drum pads and samples coming together to form a pulsing wall of sound. Highly energetic at a trap-slow pace, Filthy blasted through a four-song set, creating a thick waveform over which singer Leonard Guerra did his thing. Through a distorted loop of pedals, Guerra's voice sounded only vaguely human, trapped on the dial between FM signals. On guitar, Guerra took a similar approach, pulling weird, over-driven tones from the fretboard. Every so often, he'd utter a lick that sounded like a guitar, or sing a phrase that sounded like language.
Underneath, bassist Alex Alvarado rode out long post-punk notes, sending his lines over the top of the measure. Though you could hear Alvarado's chord changes giving a verse-chorus logic, in such a loud context, the feeling of bass driving the beat was more important than the notes themselves. The occasional strange ribbit would come from the bass, but Alvarado mostly kept the sonic structure in place, holding back the noise from falling into the No Wave ether.
On the drum pad, Mackenzie Vernacchio kept Filthy's rhythmic guts in check, pounding out electronic toms, bass and snares. A sampled drumbeat was in there too, but got lost in the volume, more of a drone adding to the blur than a grounding rhythm. Meanwhile, Vernacchio's backbeat snare helped keep the noise within the realm of pop music, in the broadest sense of the term. On the final (and best) number, Vernacchio tossed the snare on the offbeat, introducing a Dem Bow reggaeton rhythm to Filthy's straight, punk-rooted rhythmic feel.
Trying to piece out the individual instruments from the aggregate was like a sommelier bullshitting his way through an unreadable wine: mostly guesswork and largely beside the point. Filthy's music is to be heard as a whole, their huge roaring efforts coming in like the king tide. In a sense it's "loud-fi" music, a turned-up aesthetic that can't work any other way.
Local Music Week 2014
Fashioned by Local 782, Local Music Week returns for its fifth year of hyping SA's music scene. Unlike other music promotions, which focus on a weekend affair or individual gigs, Local Music Week calls out everyone involved in the process to up their contribution to music in San Antonio. Bands, singer-songwriters, promoters, open-mic'ers, critics and, most importantly, audience members—we're all encouraged to recognize and improve what we can do for live music culture in SA.
So far, Local Music Week's greatest success is the near-negligible difference between the week's events and a normal weekend on North St. Mary's. Except for the LMW tag on this week's flyers, the live music structure of San Antonio is operating as usual, fighting against the Spurs and general lethargy to get bodies out to the gigs.
That's a false negative, though, not a dis to Local Music Week. If LMW's goal is to "continue a movement within our city to spotlight local music all year round," then the fact that Local Music Week feels the same as any other means Local 782 is well on their way to their goal.
Running through Saturday, May 24, Local Music Week looks to target the culture of live music rather than piece together a grand number of shows (though they've done that too). Instead, Local 782 and like-minded passion projects encourage unsure musicians to give it a go, and ask those in the crowd to keep phones in their pocket and pay attention, to focus on seeing the music instead of being seen.