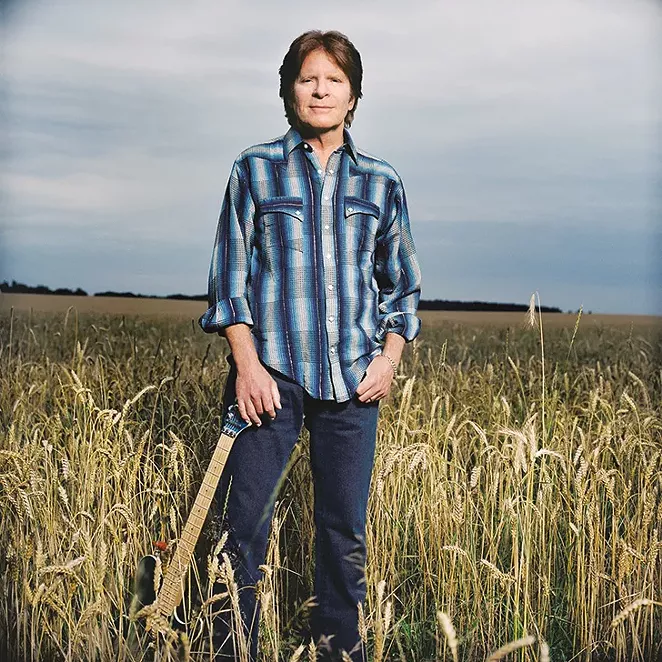 Nela Koenig
John Fogerty
The bass didn't seem to be working properly as
John Fogerty
, former Creedence Clearwater Revival frontman, and his band launched into the engine-revving "Travelin' Band," but with Fogerty's gold Gibson Les Paul high up in the mix and backed by two other guitarists, you didn't miss it much.
The show, a perfect distraction from what would turn out to be the Spurs' final 2015-2016 season game, began with a somewhat corny film of Fogerty reminiscing on the hippiedom of the late '60s, when Creedence was still together and playing in a travelin' band. Fortunately, I only caught several minutes of the nostalgia-heavy documentary before Fogerty took the stage.
The second tune played by the band, which included Fogerty's son Shane on rhythm guitar, was the swampy "Green River," Fogerty pickin' out his trademark humid licks and sweaty riffs, followed by the anthemic "Born on the Bayou." It was on this classic track that the sound engineer found the bands levels and things started to run smoothly and sound exceptional.
Fogerty, for a 70-year-old, bounced around and sang with impressive vigor, his trademark guttural gusto keeping everyone on their feet and signature locks still the sienna of autumn leaves, though the Prince Valiant cut is long gone. The years have been kind to the septuagenarian who picked up a purple Ibanez for a trip through CCR's first single "Suzie Q." It was a goofy looking guitar, but sounded great. Fogerty even shredded through a solo, sweeping along the strings like an '80s cock rocker. He apologized for the somewhat silly slideshow going on behind him throughout the set – the silhouettes of hippie women dancing and morphing into stoplight-themed lava lamps. Thanks for apologizing, John.
Before launching into the goosebumps-inducing "Who'll Stop the Rain," Fogerty told a humorous story about Woodstock and even threw some shade at the Grateful Dead for dropping acid before their set and not being able to find their instruments.
Other hits tackled by the band included "Lookin' Out My Back Door," which had a stellar accordion intro from Fogerty's keyboardist, the folk classic "Midnight Special," the brilliant "Have You Ever Seen the Rain" and "Centerfield" which saw Fogerty switch to a custom Louisville Slugger baseball bat-guitar.
At this point I was alerted of the Spurs' loss and was terribly happy to have an American icon serenading the pain away with concert closers "Fortunate Son" – for, as a Spurs fan, we are rather fortunate despite our unceremonious elimination by the Oklahoma City Thunder. Fogerty closed the show with an encore of "Bad Moon Rising" and "Proud Mary." He was full of pep and enthusiasm and it felt great to bask in the true grit of a rock 'n' roll treasure on one of the most unhappy evenings of the year. Fogerty successfully fought of
my
blues.