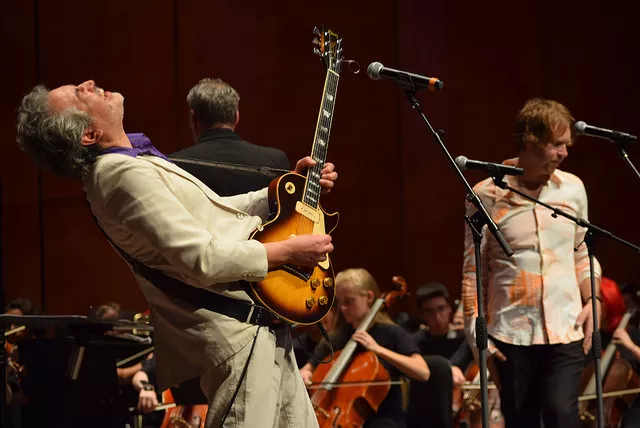 James Garza
Joe Reyes mid-lick.
Last night the Youth Orchestras of San Antonio (YOSA), along with 12 local bands, presented Abbey Road Live at the Tobin Center. The atmosphere was wrought with anticipation as the young players of the YOSA Philharmonic, led by consistently brilliant and impossibly cool director Troy Peters, prepared to follow up the huge success of last summer's OK Computer Live.
Unfortunately, while nothing can be taken away from the exquisite, tightly executed and expertly envisioned efforts by the YOSA crew, the evening of music, as a whole, did not quite live up to its hype or its potential. Vocal mic issues notwithstanding, several of the performances by the local leads – each band is given a track to interpret, backed by the orchestra, with some bonus hybrid performances – seemed under-rehearsed, out of sync and lackluster.
Perhaps less time was available (or utilized) in terms of bands rehearsing with the orchestra, or perhaps the acts just had more trouble channeling the spirit (and mastering the details) of the Beatles' classic – but, for whatever reason, many of these songs did not work out very well. This was not the jaw dropping, very nearly perfect, tour de force that the OK Computer Live show was.
Here are some particular observations:
-Some of these bands seemed uneasy handling the song they were given. A few who performed very well in the OK Computer show, but had trouble here, just might not have been good fits for these songs.
-Octahedron, particularly lead singer Elena Lopez, continues to impress. The young indie rock group's rendition of "While My Guitar Gently Weeps" (one of a handful of non-
Abbey Road
tracks), was the moment when the show seemed to really kick into gear. Austin Jimson's guitar work and Lopez' vocal bravada clicked in perfect sync with the orchestration.
-I don't know if there was an issue with vocal mics or what, but, seriously, some of the vocal performances (especially in Deer Vibes' "Come Together" and We Leave At Midnight's "Maxwell's Silver Hammer") we're rough, at least in part, because of audibility problems.
James Garza
Alyson Alonzo impressing, as per usual.
-Buttercup was made for this shit. Are you kidding? As the group performed "Something," frontman Eric Sanden's lilting croon struck a splendid middle ground between adoring (and extremely capable) imitation and respectful reimagining. And Joe Reyes predictably showed up big on that smooth George Harrison guitar work. Because, of course he did – he's Joe Fucking Reyes. (I swear to god I even heard one older gentleman near me say he thought this version was better than the original.)
-If this overall show didn't quite live up to the bar set by last summer's show, Alyson Alonzo, who stole the show those several months ago, certainly met (even exceeded) the high expectations. Performing "Oh Darling" with her band Sugar Skulls, Alonzo proved that she is equally adept at reigning in and focusing her extremely powerful vocal instrument as she is at giving it room to roam. It's only fitting that she got to sing the line "I'll never let you down." We believe you girl. We believe you.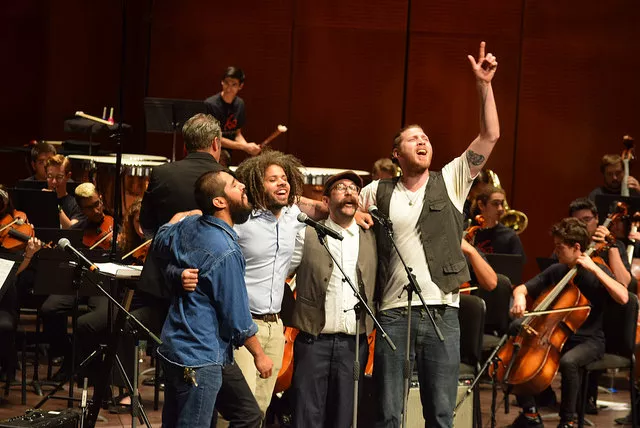 James Garza
fishermen, one of the highlights of the night.
-From the moment I first saw the list of local bands who would be joining YOSA for this performance, I wondered who would tackle "I Want You (She's So Heavy)." The nearly eight minute song is heavier, trippier and more nakedly seductive than any other on
Abbey Road
(or any other in the Beatles' catalog for that matter). As it turns out, fishermen did the honors, and to stunning effect. Even as ringleader Edwin Stephens belted out the sultry and impetuous lyrics with a mildly detached (but still utterly emotive and believable) swagger, he joined at least one other guitarist in winningly shredding out the brash and funky progressions. The night was certainly a banner catch for our humble fishermen.
-The Marcsmen, a local men's a cappella chorus formed in 2007, turned in a nigh-religious rendition of "Because." Indeed, every touch the group added, throughout the evening, lent a contemplative power and spiritual zest to the songs, something that was an important component of the original
Abbey Road
.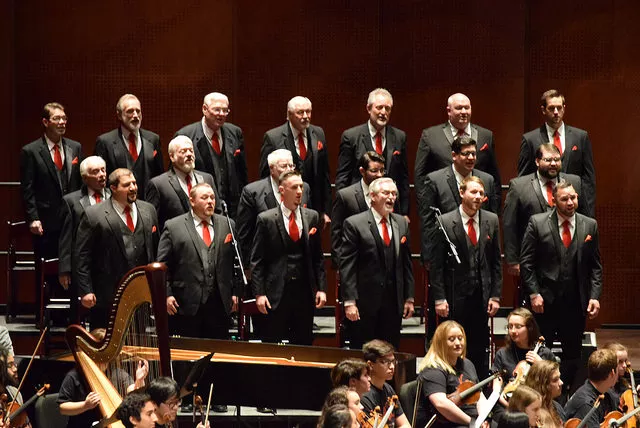 James Garza
The Marcsmen
All in all, it was a highly enjoyable evening with plenty of bright spots to relish and lessons to be learned. It's always a pleasure to see young people today committing to anything positive, especially in the arts.
The only question I have is, after Radiohead and The Beatles, what's next for YOSA and Troy Peters? After all is said and done, not much could dim the eagerness with which I await that answer.