When Lizzo released her 2016 EP Coconut Oil, it felt like the entire music world paused and was like "wait — what — who is this?" It'd been a long time since a new artist was able to transcend the underground R&B world to the bleeding edge of pop. And while keeping her personality and lovable character at the forefront of her music? It's no wonder the world (or at least anyone with good taste) fell in love with Lizzo.
When I found out she was going to be blessing Paper Tiger with her presence, I jumped at the opportunity to review the show since I had a feeling her performance would be one for the books … and hunty, I was not wrong.
My gaggle of my best gay friends (I'm gay too – there was a lot of gay people there) and I showed up just before the queen was about to take the stage (we unfortunately missed Doja Cat, her opener, which we heard was amazing). The crowd inside the Paper Tiger's main room was a mix of POCs, LGBTQs and just a real overall mix of people. It felt like gay church, and when Lizzo came out on stage donning a frilly yellow outfit, she made sure we felt the spirit.
Opening up with the unreleased track "Fitness," Lizzo, her DJ/backup singer and two dancers warmed up the crowd before exploding into the fan-favorite "Phone." It turned into a full-on rock concert as the entire room began jumping and shouting the hook "where the hell my phone / where the hell my phone / where the hell my– / where the hell my phone / how i'm 'posed to get home?"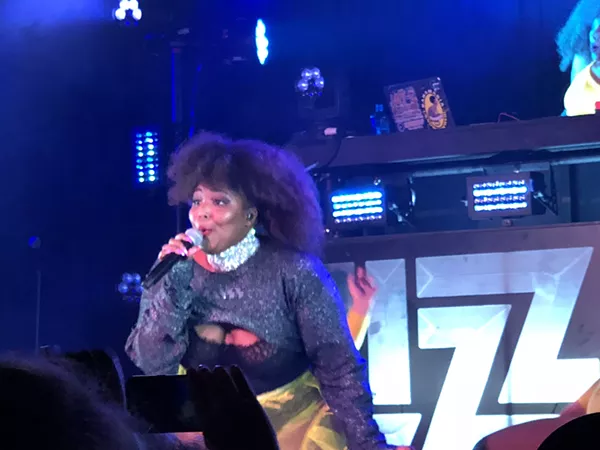 Armed with choreography for days and a light show that would definitely cause seizures for folks with epilepsy, Lizzo and friends made their way through tracks from all of the singer's records, including "Coconut Oil," "En Love" and newer tracks like "Water Me" and "Truth Hurts."

It's one thing to just watch a performer do their thing, but with Lizzo, she made sure the audience was a part of the experience, bringing on a couple of people from the crowd to dance (I see you David and Lorelle) and putting on a shirt that was designed for her (thrown on stage in a package which Lizzo opened).
"If you don't leave with anything today, I hope you leave with self-love," Lizzo told the audience towards the end of her set. And you know, I think that's why so many people are drawn to her; Lizzo's themes of self-love and self-care are attractive and speak to us who may struggle with those things like size, color, gender or sexual orientation. And instead of feeling ashamed about it, this queen is just like, "fuck that, be you, and love yourself, 'cause no one can love you more than you."


If you were at the show Saturday night, you know what I'm talking about when I say Lizzo took us to church. My friends and I got to meet her after the gig, and she was as bubbly and nice as you might expect her to be (I'm not crying, you're crying). Lizzo is a boss, a badass chick and quickly becoming iconic with her unabashed personality and high-octane performances.