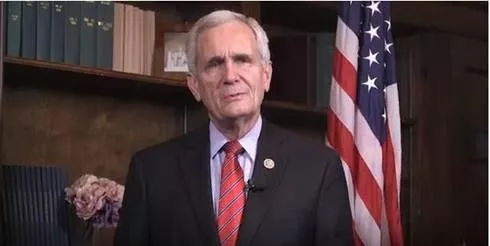 Via Lloyd Doggett's office
Rep. Lloyd Doggett says Gov. Greg Abbott's roundtable doesn't go far enough.
Doesn't sound like U.S. Rep. Lloyd Doggett is holding his breath waiting for Gov. Greg Abbott's roundtable on school shootings to result in meaningful action on gun violence.
Good thing, too. We'd hate to see Lloyd turn green and pass out.
That's because past words and actions sure don't suggest the Gov — who spoke at the National Rifle Association's recent annual meeting and has a
100 percent NRA approval rating
— has much appetite for firearms restrictions.
"We need officials with the courage to stand up to the gun lobby and stand up for our schoolchildren—not to endlessly praise the NRA, as Gov. Abbott, Lt. Gov. Dan Patrick and our Senators did up in Dallas just this very month," Doggett, a S.A.-Austin Democrat, said in a
video statement released today
.
Republican Abbott announced his three-day roundtable Monday in response to last week's 10-fatality
shooting at Santa Fe High School
. The first of the meetings
is
taking place today.
Abbott's office wasn't available for immediate comment, but according to a press statement, the gathering includes parents, teachers, students, lawmakers and "interest groups that advocate for and against further gun regulations."
Doggett, in his statement, questioned Abbott's sincerity about bringing all voices to the table. He pointed out a few notable exclusions: gun-control groups Moms Demand Action and March for Our Lives and leaders from the state's teacher's unions.
But, even if some gun-control advocates do have a seat, it's easy to see where Doggett's concern lies.
Abbott's shout-it-from-the-rooftops support for the NRA doesn't inspire confidence that an assault weapons ban or even universal background checks are in the offing. After all, this is the guy who once tweeted his embarrassment that Californians buy more guns than Texans.
Abbott's staked an enormous amount of political capital not just on being pro-gun but being among the most pro-gun politicians in the fricken country. Since taking office (
with the NRA's endorsement
, of course), the governor has signed both Texas' open carry law and another law that lets people 21 or
over pack
pistols on public university campuses. (Ask anyone who teaches or works in security on a college campus how popular that one was.)
Need another sign just how pro-peashooter the Gov is?
His re-election website was promoting a contest to give away a $250 voucher for a shell-blasting shotgun days after the Santa Fe shooting. Only Monday did it abandon the contest.
Stay on top of San Antonio news and views. Sign up for our Weekly Headlines Newsletter.