Maybe you really wanna get out during the week but stay in because you have no idea what fun could possibly even be happening on a weeknight.
Well, now you don't have that excuse. We rounded up some of the best regular weekly and monthly installments at some local bars and venues. Whether you're into open-mic or a solid dance night, there's guaranteed something to do every day — for free — during the week in San Antonio.
MONDAYS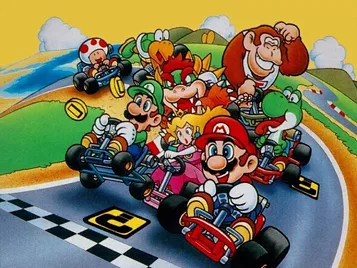 http://sanantonio.carpediem.cd/events/666508-mario-kart-mondays-at-vivatacoland-at-viva-tacoland/

MarioKart Monday at Viva TacoLand
This is the official day to come visit Viva TacoLand to create live art and embrace your inner video-game superstar. Mondays often include tunes by DJ Hypnotik or live bands like the Awols. Whether you're into gaming, art, local music, or just getting your drink on, MarioKart Mondays deliver.
9pm, free, Viva Tacoland 103 W. Grayson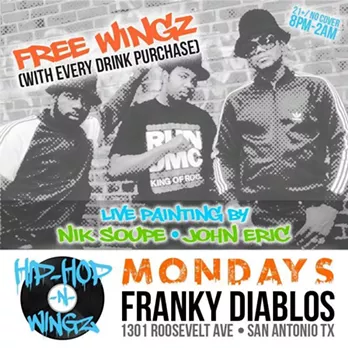 https://www.facebook.com/AmazeTheCity

Hip-Hop-N-Wingz at Franky Diablos
Never a cover, stop by and you get free wings with every drink purchase – and you know you were planning on drinking anyway. Mondays often include live painting by local artists like Nik Soupe and John Eric, and of course, hip-hop all night long.
8pm, free, Franky Diablos, 1301 Roosevelt
http://do210.com/soundgallery
Sound Gallery with Deep South Collective and Special Guest Selectors
Paramour and Southtown Vinyl are partnering to present Sound Gallery from 8pm to 12pm every Monday. Enjoy a cocktail to the sounds of deep house and "eclectic grooves" on the patio or inside.
8pm, free, Paramour Bar, 102 9th Street
TUESDAYS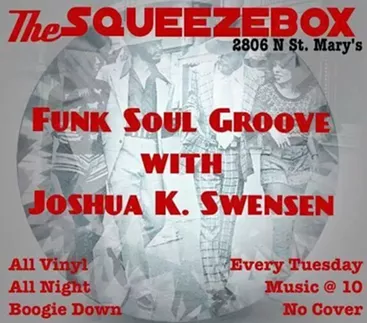 http://do210.com/events/weekly/tue/funk-soul-groove-with-joshua-k-swensen

Funk, Soul, Groove with Joshua K. Swensen at the SqueezeBox
Boogie down with all vinyl all night with DJ Joshua K. Swensen. The latest addition to the N St. Mary's strip brings soul, R&B and what ever else Swenson feels like spinning.
10pm, free, The Squeezebox, 2806 N St Mary's
https://www.facebook.com/jimcullumjazzband/photos/a.345458825516988.79293.257090671020471/1138955326167330/?type=1&theater

Jim Cullum Jazz Band at Tucker's
What goes better with jazz than southern soul food? Get classy with Jim Cullum's weekly staple at Tucker's every Tuesday until 10pm.
7pm, free, Tucker's Kozy Korner, 1338 E Houston
WEDNESDAYS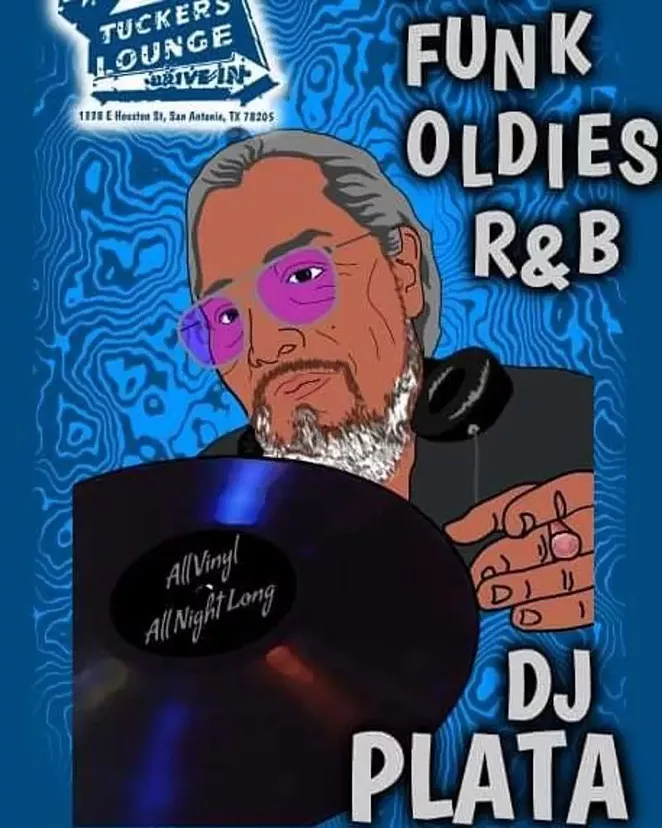 http://do210.com/events/weekly/wed/funk-oldies-rb-all-vinyl-with-dj-plata

Funk, Oldies & R&B with DJ Plata at Tucker's
All vinyl all night, get your groove on with DJ Plata every Wednesday. Dance the night away to some oldies funk, or just kick back and get lost in some R&B.
8pm, free, Tucker's Kozy Korner, 1338 E Houston
https://www.facebook.com/venturasatx
Open Mic Night at Ventura
Ventura's open mic night is open to musicians, poets, comedians, or any other talent. Whether you want to perform, paint outside, or just watch, there's no cover every Wednesday and it's all ages. 8 pm, No Cover, Ventura, 1011 Ave. B
THURSDAYS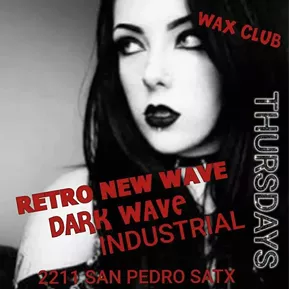 http://do210.com/events/weekly/thu/underground-thursdays

Underground Thursdays at Wax Club Lounge
Featuring New Wave, Dark Wave and Industrial music all night, Wax also has drink specials to start your weekend early ($2.50 wells). So get dark and get down a day early.
8pm, free, Wax Club Lounge, 2211 San Pedro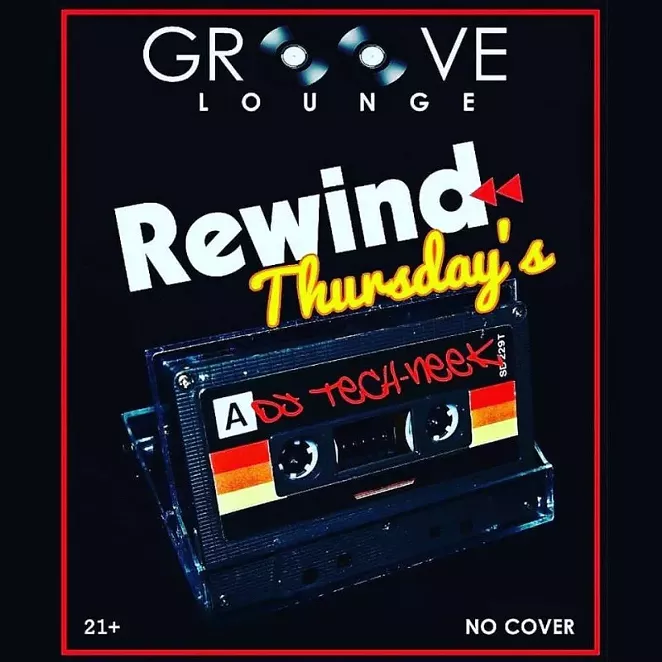 http://do210.com/events/weekly/thu/rewind-thursdays-with-dj-tech-neek

Rewind Thursdays with DJ Tech-neek
Thursdays here feature drink specials, new and classic hip hop, r&b and soul all night. For downtown, the free parking is a rare plus, too.
10pm, free, Groove Lounge 501 E Crockett
https://www.facebook.com/BrassMonkeyTX/
Thursgayz with VJ Glitoris
Look for the big rainbow flag every Thursday on N. St Mary's and you'll find Brass Monkey's Thursgayz with VJ Glitoris spinning indie and electro music. Dance all night or take advantage of 75 cent wells and $2 Fireball. 10pm, Free, Brass Monkey, 2702 N St Mary's
FRIDAYS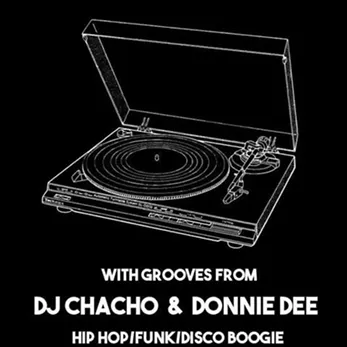 http://do210.com/events/weekly/fri/its-a-groove-thing-dj-chacho-dj-donnie-dee

It's a Groove Thing

Groove Lounge offers a spot every Friday to relax and even get down if you so please. DJ Chacho and DJ Donnie Dee throw down funk, hip hop and disco all night.
10pm, Free, Groove Lounge 502 E Crockett