Mezcaleria Mixtli
(5313 McCullough Ave., 210-320-1660) to raise money with Tacos for Kane.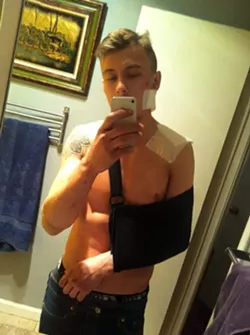 Courtesy
Sorrell after the hit-and-run accident.
San Antonio native, Kane William Sorrells, is a chef currently employed by
Qui
(1600 E. 6th St., 512-436-9626) in Austin. Sorrells is one part of Tim Doi, a now defunct Thai dining concept he and friend Jerald Head shared with San Antonio. Sorrells and Head were a part of Arcade Midtown Kitchen before it closed in mid-2015.
Tomorrow Sorrells will undergo surgery for his broken right clavicle. Uninsured, he estimates the cost to be around $8,000, not including the cost of physical therapy and rehabilitation. This is where Tacos for Kane comes in.
From 5-10 p.m., chef Luis Colon of
Folc
and other culinary community members, including Diego Galicia of Mezcaleria Mixtli, will cook and create dishes to cover the cost of Sorrell's medical needs. All proceeds from the evening will go directly toward Sorrell's expenses on his
gofundme
page.
If you find yourself in Austin, Qui is also contributing to Kane's fund for the next few weeks with their
HurriKane drink
and 100 percent of the drink profits go to Sorrells.