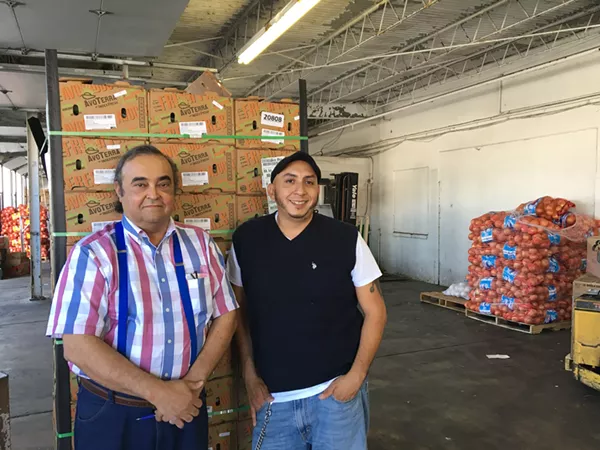 Jessica Elizarraras
Joe Mendez, left, and sales rep Andrew Magallanez, right
If you're a fan of Rebelle, Folc, Mixtli, Grayze, Feast, or The Bin, you're already familiar with their standout flavors — all made possible by adding a slew of ingredients you will definitely not find at your local H-E-B.
Owned by Joe Mendez,
Unifresh Produce
is a relatively small three-unit vendor located in a small nook of the San Antonio Produce Terminal off Zarzamora. Though Unifresh opened in June 2000, Mendez's roots in the produce game go as far back as the 1950s when his father owned Big State Produce, now owned by brother Roy. Joe deviated from the family business to become an engineer at IBM during the late 70s, but made his way back to San Antonio in the mid-80s to be around family.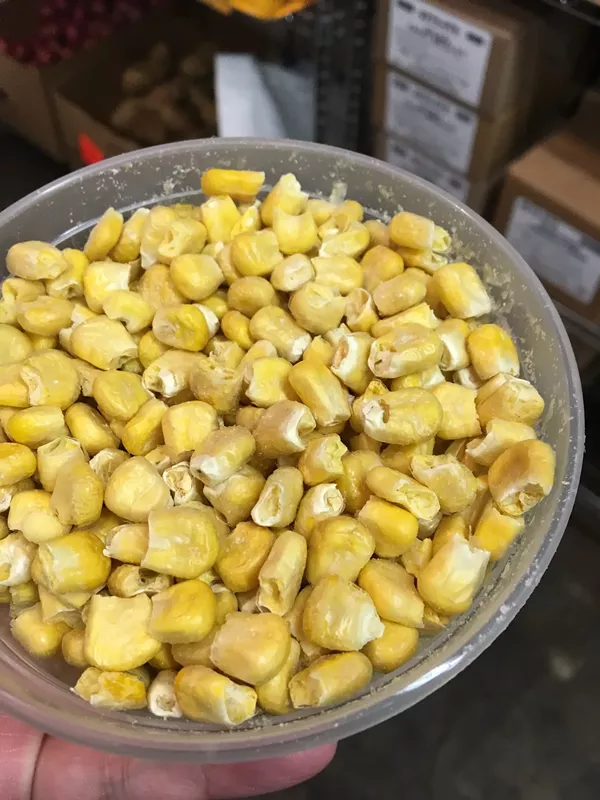 Jessica Elizarraras
Freeze dried corn
"My mom talked me into it, my wife's family is from here, my whole family is here," Mendez said. "I enjoyed working with my family."
The vacation days aren't as plentiful as they were at IBM (now he works weekends and holidays, to the dismay of his wife). But Mendez has now been around the produce industry long enough to have seen dining trends come and go.
"When salad bars became popular, we had to start having honeydews and cantaloupes all year round because the salad bar had to look the same," Mendez said. "That meant bringing in produce from all over the globe."
He's hired on a slew of drivers and sales people, including top sales rep Andrew Magallanez, to staff the not-so-tiny operation. On an early morning visit this November, the warehouse bustled with various moving parts. Drivers wove in and out of walk-in freezers, filling orders and loading up vans. The warehouse shuts down at 4 p.m., but orders continue to fill the system until midnight when an employee heads back into Unifresh to write them up. Three hours later, at 3 a.m., another slew of drivers makes their way back into the chilly coolers to fill said orders.
Jessica Elizarraras
Edible flowers
And while this happens at each produce company inside the terminal, not everyone deals in boutique goods. What sets Unifresh apart is the several refrigerators' worth of hard-to-find items. Our visit included peeks at freeze dried sweet corn, dried pomegranate seeds, lobster mushrooms (so named due to their pungent, crustacean-like odor once they start going south), the sweetest and tiniest of edible apples, and mouth-puckering and tart dried gooseberries.
Andrew Magallanez, who's been with Unifresh for seven years, learned how to navigate the specialty produce market while working with Jesse Perez at Westin La Cantera.
"Growing up in the wholesale business, before we sold to restaurants, the produce professional at each store knew about produce, they knew about the season, they knew the pricing," Mendez said. "You have to educate buyers differently now."
This means making people aware of seasons and how they'll affect prices. Just a few weeks ago, cases of avocado were difficult to come by, and now it's raining creamy goodness (thus making prices drop).
For Magallanez, that means a sharing bushel of this or a package of that to get restaurants familiar with the produce. How else are chefs supposed to figure out what they can make with caviar limes? Also known as finger limes, this special fruit is made up of tiny globules of bright lime juice — perfect for topping a ceviche or garnishing a cocktail.
Magallanez will study and geek out over specialty items such as the vibrant amaranth beet sprouts from San Antonio's FreshWater Farms or tribble-like pom pom mushrooms that soak up whatever buttery sauce they're paired with.