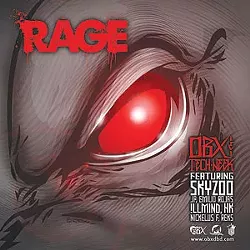 Local review of OBX and Tech-Neek's Rage (EP)
Label:
DBDFam Music
Release Date:
2011-03-09
Rated:
NONE
Genre:
Recording
The title of OBX (oh-bex) and Tech-Neek's Rage EP is a little misleading. What's here is a 14-track micro-opus, complete with several interludes. The ambition is a welcome change to other locally released EPs. The aural meticulousness of the project's many producers (including Manafes, Ben Diggin, Kuse, Ill-Mind, and Vherbal) and OBX's aggressive, self-deprecating rapping are an interesting pairing. OBX deliberately raps about being a struggling middle-class citizen, a demographic he sees as under-represented in hip-hop. Being that Saytown is a working-person's art scene (and in recession), the move is kind of genius. On "This is My Life," he raps about his dad's cell phone being wrapped in duct tape, going to court to fight overdraft fees, and accepting Pell grants just to drop all his classes. "I spent that dough all on my features," he sings. "It's the only time I could get some fresh sneakers." Meanwhile, Rage's sonic quality will remind listeners of DJ Hi-Tek circa 2000's Reflection Eternal. The breaks are straight-forward and the textures uncomplicated, but the team knows what makes heads nod. Also, they wisely avoid upstaging OBX, who has a tendency to run like a wild dog through a track. Hopefully, Rage is a promising preview to an epic LP in the not-too-distant future.
This has been updated from a previous online version and from the print edition in which it originally appeared. Tech-Neek was incorrectly named the EP's producer.