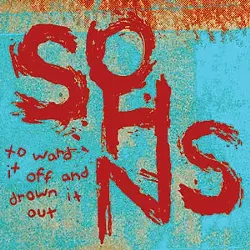 SOHNS: To Ward It Off and Drown It Out
Label:
Forgotten Empire
Release Date:
2011-02-02
Rated:
NONE
Genre:
Recording
The Current's former Music/Screens/Tech Editor Jeremy Martin once described SOHNS as an abominable hipster-eating music beast. No doubt, he inadvertently legitimized their shrieking maniacal hardcore. It's no mystery that too many new Saytown bands draw from post-punk, metal, and screamo. So a listen of To Ward It Off and Drown It Out makes one feel that the well is only giving wet dirt.
That's not to say that SOHNS aren't precise musical ninjas. The apocalyptic terror of "Pieces, Pieces, Pieces" — with its machine-gun kick drums, soaring riffage, and singer Alex Méndez's screeching vocals — tell me the end of days could have a surprisingly tidy, if very heavy, soundtrack. Also, Shape of Punk to Come-style interludes, complete with goth piano passages and choruses that sound like death marches, pepper the record's 37 minutes.
The problem lies in how SOHNS traffic in brutality and discomfort with no clear subtext. Méndez's vocals aren't discernible unless read, and, on paper, their ambiguity is a shit-stained middle finger. To quote Jawbox, a likely forebear of SOHNS, this album is all nerve, no brain.
SEND US YOUR LOCAL ALBUMS! DELIVER TO: 915 Dallas St. / SATX 78215 / ATTN: Enrique Lopetegui