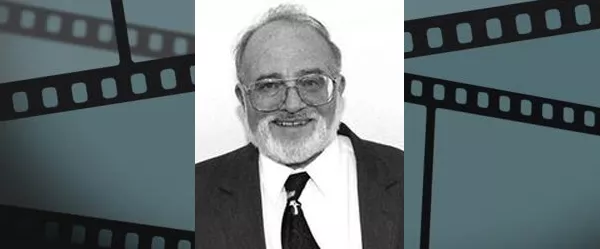 Courtesy
San Antonio film critic Bob Polunsky, 1931-2017
Bob A. Polunsky, a longtime local movie critic, who reviewed films for the
San Antonio Express-News
from 1968 to 1996, passed away on Sunday. He was 85 years old.
Polunksy, a U.S. Army veteran and University of Texas at Austin graduate, started his career in the media as a traffic manager at KABC Radio in San Antonio in 1953. Throughout the years, he held a number of sales positions for local TV and radio stations, including KENS, KONO and KSAT.
Flicker Footnotes
Bob Polunsky interviewing Robin Williams in 1987 for his role in Good Morning, Vietnam.
<!—————StartFragment—————>During his 28-year career as a film critic with the
Express-News
, Polunsky interviewed countless film celebrities, including Steven Spielberg, Robin Williams, Tom Hanks, Leonardo DiCaprio, Jim Carrey, Nicole Kidman, Eddie Murphy, Gene Wilder, Johnny Depp and hundreds of others.
After his time with the
Express-News
came to an end in 1996, Polunsky, who was a member of the nationally-recognized Broadcast Film Critics Association and the first San Antonio film critic to broadcast reviews on both radio and TV, started contributing film reviews to the community publication
Primetime Newspapers
, which is now owned by the
Express-News
. He was also featured on
Flicker Footnotes
, a TV and web segment on News4SA (WOAI) where he would review the latest movie releases from Hollywood, and published his book
Bob Polunsky's Flicker Footnotes
about his career.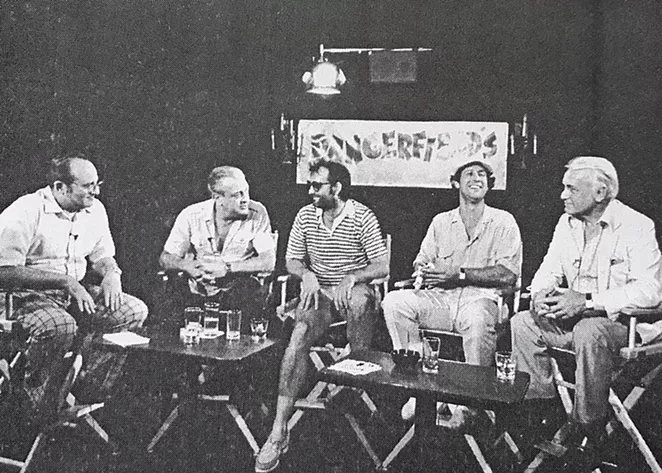 Flicker Footnotes
(From left) Polunsky interviewing Rodney Dangerfield, Billy Murray, Chevy Chase and Ted Knight in New York City.
Former
Express-News
film critic and colleague Larry Ratliff remembers Polunsky as a "spirited rival" from 1984 to 2008. When Ratliff started traveling around the world in the mid-1980s to interview actors, Polunksy introduced him to others in the industry.
"Bob had a great love and appreciation for movies," Ratliff told the
Current
early today. "Like most good critics, he adored the good ones and despised the horrible ones. And he wasn't shy about stating his opinion. He also had a remarkable memory for titles, actors, movie plots and directors. We were rivals, but I respected his zeal for all things cinematic."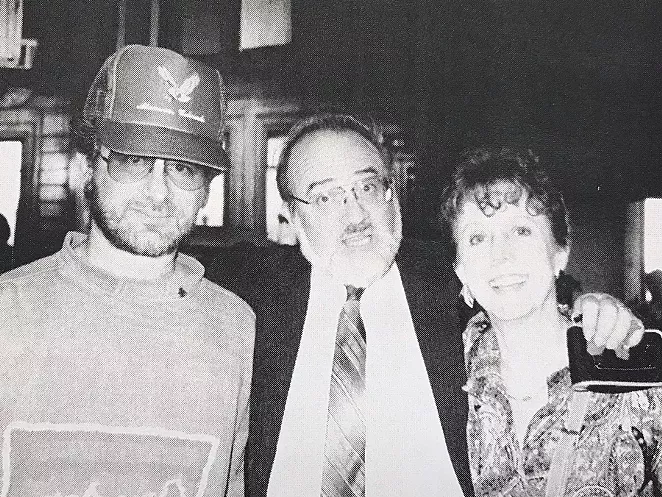 Flicker Footnotes
Polunsky (center) and his wife Paulina at a Christmas Party with filmmaker Steven Spielberg.
Jerrod Kingery, former News4SA Digital Content Specialist and film critic at CineSnob.net, worked with Polunsky during the latter years of his career as News4SA's house critic, but had followed his writing during his time at the
Express-News
when Polunsky's reviews would run in
The Weekender
.
"Bob's takes on the week's films was something I always looked forward to," Kingery said. "His reviews were probably my first instance of finding out people disagreed on whether or not a movie was any good. And whether we agreed or not, I respected his opinion, which isn't a quality easily earned in these days when everyone is an armchair critic about something."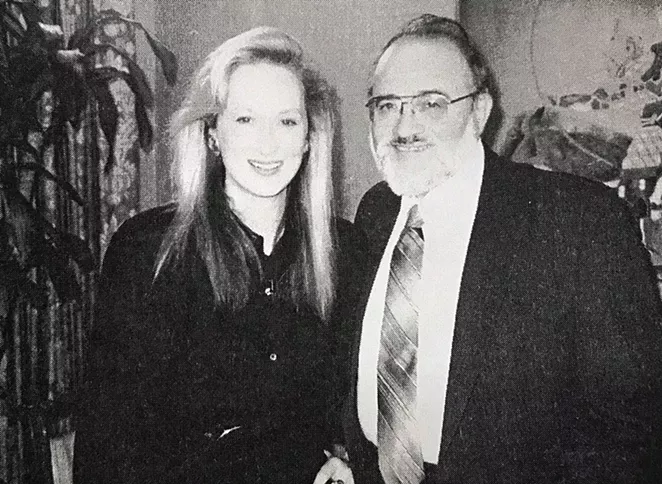 Flicker Footnotoes
Polunsky with actress Meryl Streep.
I, too, had grown up reading Bob's reviews. Besides Roger Ebert and Gene Siskel debating films on
At the Movies
on TV, Bob was someone I looked up to and wanted to learn from. Having a local film critic who was reviewing films like Bob inspired me to follow his path. He proved that you didn't have to live in Los Angeles or New York City to work as a film critic at the highest level if you had the passion, knowledge, drive and history for the art form.
The first time I met Bob was circa 2002 at a special film critics' screening at a local movie theater. I was a 22-year-old reporter writing for
La Prensa Newspaper
at the time who wanted nothing more than to review films for a living. For the next few years, I would pick Bob's brain about the industry and ask him questions about everything I had to do to succeed in the field. He would tell me stories about his time as film critic in the '60s and '70s and how the profession had changed. He shared some of his professional contacts with me, so I could make sure I was on the studios' lists for press screening invites and other opportunities.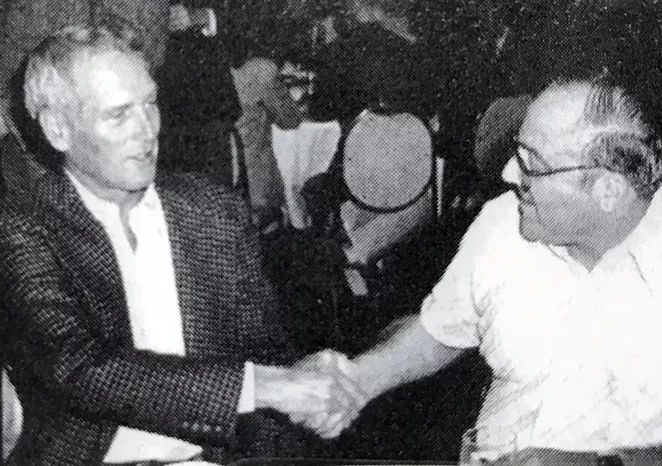 Flicker Footnotes
Polunsky meeting Paul Newman.
One summer, Bob invited my girlfriend (now my wife) and I and a few other people over to his home for lunch and to watch a few Laurel and Hardy movies. He showed me a room in his house where he kept all his movie memorabilia, DVD/Blu-rays/VHS and photos he had collected for 40 years. It was like traveling in a cinematic time machine.
After the tour, we sat and ate sandwiches and watched three Laurel and Hardy movies. He shared every tidbit of information he knew about the comedians, and we laughed and talked the entire afternoon.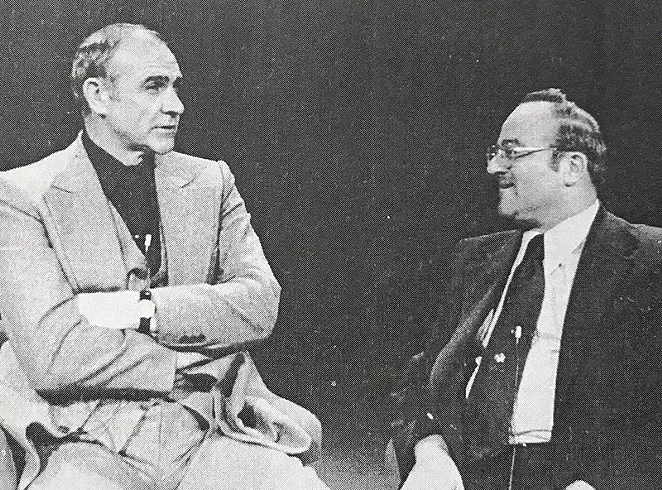 Flicker Footnotes
Polunsky talking James Bond with Sean Connery.
It was an honor when I was asked in 2009 to join Bob on News4SA's TV and web show
Flicker Footnotes
. Sitting beside him to review movies until his retirement a couple years later was a memorable time in my life.
Godspeed, Bob, and thank you for blazing a trail for others like me to continue their love for film, film criticism and the written word.
Funeral services for Bob Polunsky are scheduled for Tuesday, August 22, at 10:30 am, at Temple Beth-El Memorial Park (1715 Austin Highway).