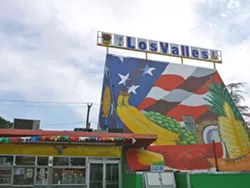 Adorning the steep, pointed roof of Los Valles fruteria on South Flores, a vibrantly colored mural depicts enormous fruit. The larger-than-life image rises above adjacent buildings, beckoning drivers and tempting pedestrians to stop in for a fresh, mouth-watering snack.
Three miles down from the South Flores Arts District, this Southside gem serves a wicked "mangonada." Scoops of finely shaved mango ice hide small, frozen chunks of the fruit. A drizzle of syrupy red chamoy sauce, the juice
of a fresh squeezed lime, and a generous dusting of chili and salt top off the treat. It's delightfully refreshing on a hot afternoon and packed with intense flavors. At once sweet, salty, sour, and spicy, the frozen mangonada from Los Valles only sets you back $2.50.
The fruit cups are equally as tantalizing, filled beyond the brim with watermelon, mango, pineapple, cucumber, cantaloupe, strawberries, and grapes. The sweetness of the fruit gets a kick from an optional squeeze of lime and sprinkle of chili and salt. This healthy (in more than one sense of the word) serving also goes for just $2.50.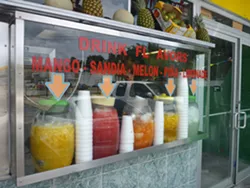 Closed on Tuesdays, Los Valles opens at 10 a.m. the rest of the week and closes at 9 p.m. (or 9:30 p.m. on weekends). Windows along every wall of the building offer a glimpse of fresh fruit as it is chopped and sliced. Large jars of aguas frescas in five different flavors glisten with condensation behind the glass, while various sizes of fruit cups and bowls chill on ice.