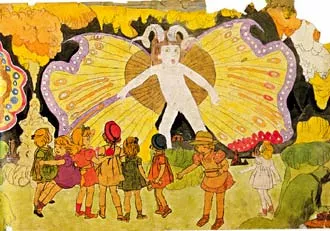 The Vivian Girls are aided in an escape by one of Darger's magical child-creatures in an illustration from his 15,000-page epic The Story of the Vivian Girls, in What is Known as the Realms of the Unreal, of the Glandeco-Angelinnian War Storm, as caused by the Child Slave Rebellion.


Henry Darger remains an enigma despite, or because of, a museum's-worth of work
When Chicago janitor Henry Darger died in 1973, he left behind a lavishly illustrated 15,000-page manuscript detailing the adventures of seven resourceful girl heroines in an esoteric universe called the Realms of the Unreal. Many of the paintings, produced on cheap butcher paper, are 10 feet long and 4 feet high, and filled from top to bottom with melodramatic action, multiple characters, and vibrant flora. This alone would have secured a place for him in American art history, but Darger, a hermit and packrat who had no known heirs or immediate family, also left a lengthy diary, correspondence, and a veritable truckload of detritus that curators refer to as "paper ephemera," which give remarkable insight into the creative process of this most prolific artist. But even as Darger's images multiply across the digital universe and his unique style influences contemporary artists and commerical illustrators, for the vast majority of us the supplementary material that would give us some insight into Darger's mind remains as inaccessible as the Dead Sea Scrolls.
A new documentary by Jessica Yu, titled In the Realms of the Unreal, tries to sketch in the vast blank space that surrounds Darger. The title refers as much to a belief held by Yu - and the few people who knew Darger - that the strange man lived primarily in an alternate world of his own making, as it does to the epic title of his masterpiece, The Story of the Vivian Girls, in What is Known as the Realms of the Unreal, of the Glandeco-Angelinnian War Storm, as caused by the Child Slave Rebellion. The image of Darger as a man-child is reinforced by the voice of child-actress Dakota Fanning, who narrates parts of Yu's film, and by a montage of acquaintances asserting that he was "more like a child."
But the truth about this man, who was orphaned by the time he was 12 and grew up in a series of state institutions, is certainly more complicated than that. Excerpts from Darger's diaries are reflective, cognizant to a great extent of his singular nature. The grown Darger recalls that he was an early reader - he learned from his father who read the paper to him - and a precocious artist who bought his own paints before he was 8. He recounts with some insight his inability to cope socially at school, and his grief over the loss of a baby sister who was given up for adoption when his mother died. Yet his neighbors recall that in the solitude of his apartment he carried on boisterous conversations in multiple voices, and his manuscript and diary recount a period of obsession with a lost photo of a murdered little girl - a totem perhaps for the lost baby sister - signs of extreme eccentricity if not outright mental illness.
Darger is described by his admirers as a recluse. Although he worked at the same Catholic hospital for most of his 80 years and attended Mass two to three times a day, no one was privy to his interior life. But for a public hungry to understand the creative process, he left a virtual diagram: the high correlation of events, ideas, and reflection between his straight autobiographical materials and Realms. Yu has insightfully interwoven excerpts from both, often animating Darger's drawings to illustrate the Vivian girls' tale or dramatize incidents from the artist's youth. A biography that might have mired us in melancholy or anger for the sad circumstances of Darger's life instead becomes a magical glimpse of the artist-at-work.
These animations, while winsome and the main reason Yu's film is so enchanting, also illustrate Darger's position at the crux of art syntax. It is unlikely that a high-minded documentary about Picasso would animate Les Demoiselles d'Avignon, but Darger is considered an outsider, or brut, artist; his work is not sacrosanct even among his devotees. The vast bulk of Darger's estate is now housed in the American Folk Art Museum's Contemporary Center. Folk art, according to the Museum, plays a significant "role as a carrier of our cultural inheritance," and while its aesthetic and formal qualities are widely appreciated, it is associated with daily life and use; it invites a sense of ownership and appropriation. This is perhaps even more true of Darger's work because it depicts a world that revolves around the concerns and adventures of children, a realm to which we all have deep psychological links.
Darger's art is not really folk art, but neither is it modern or contemporary. Born before the turn of the last century, Darger created an aesthetically and formally consistent body of work from 1909 through the early '70s as around him Chicago grew to be one of the great American industrialized cities, automobiles replaced horse-drawn carriages, and the world of religiously affiliated hospitals and poor-houses in which he lived grew increasingly anachronistic. Because he drew most of his figures by copying, tracing, and repeating images from newspaper and book illustrations, his girls and men look like turn-of-the-century cherubs and World War I GIs (Darger served in the military during the war, but never left the states and secured an early release, he wrote, by exaggerating his nearsightedness) respectively. His stories, while deeply inflected with the personal - grown women, it seems, seldom appeared in the imagination of this motherless boy - are also shaped by Victorian sentiments and fears for and about childhood, ideas that would have informed his upbringing and the literature he voraciously consumed. Darger's unorthodox methods are not out of step with contemporary art, but his narrative and sentiments are, so he is treated as a curiosity as much as an artist.
Yu's film mostly sidesteps these issues - as it gently tiptoes around the nudity and hermaphroditic traits of his heroines - in favor of the mystery of the man, a mystery that we all seek the answer to at some point: How much can any of us comprehend our own self? Shaped by the religion that stood in place of a family, Darger phrased the question in the epic terms of his tale: "Am I a real enemy of the cross, or a very sorry saint?" •
By Elaine Wolff