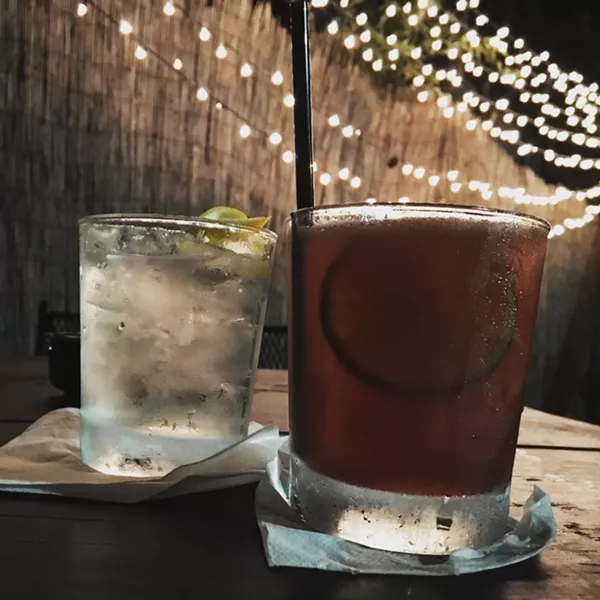 Jessica Elizarraras
Cocktails on the patio at Lowcountry
The Southtown area gained another bar this past holiday weekend with the opening of Lowcountry at 318 Martinez St. If you're anything like my uber for the night, you might miss it.

Located inside a renovated house, the backend of Lowcountry juts into Alamo Street Eat Bar's back patio if that helps you place it. Opened by Danny Delgado (Faust Tavern, Hi-Tones, the late Phantom Room, The Squeezebox) and Drew Morros and Roberta Marques of Crossroads Kitchen, Lowcountry is as chill as the Southern-inspired name would suggest. The space is dark, yet homey, and dotted with quaint knick-knacks like cat-shaped planters and other whatnots.

Though a bit of a tight squeeze, Lowcountry's
je ne sais quoi
is how inviting it is. The outdoor patio, decked out with twinkly lights which will always make any space better, is just spacious enough to hang around and toss back a few brews or cocktails. The cocktail menu, designed by Denise De Glopper formerly with Barbaro, is definitely worth exploring. Though first night jitters caused a bit of confusion and I'm not entirely sure what drink I was delivered, the menu is tightly constructed with something for all to enjoy including a punch and a boozy Talk Strong.
On the food side of things, Crossroads Kitchen is supplying "proper bar food" for its sister bar. Morros and Marques, South Carolina natives, are whipping up crunchy cheese straws, pork cracklins (didn't have a chance to get my hands on these, so next time), boiled peanuts (decidedly fun and a throwback to flea markets Morros grew up with) and pickled eggs.
Programming for Lowcountry is already jiving. Back Yonder a monthly songwriters' night curated by Torin Metz and Garrett T. Capps was held last Sunday, and a First Friday party is planned for this weekend with country records by DJ Big Tex and music by D.T. Buffkin and Garrett T. Capps on the back patio.
Lowcountry is open 4 p.m. to 2 a.m. Tuesday-Sunday.
318 Martinez St., (210) 560-2224.