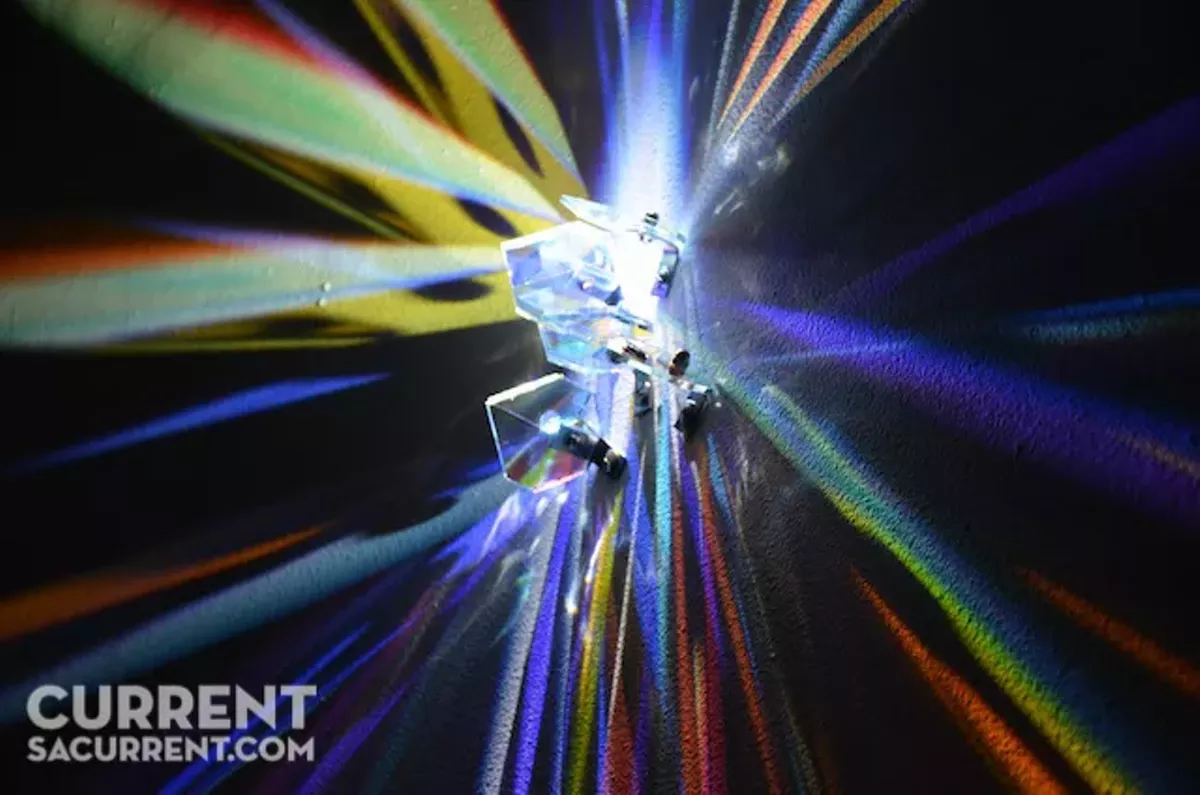 Last at Sala Diaz, SA's Cathy Cunningham-Little explored light refraction in a small wall piece that cast beams of colored light across the wall. Her room at the Instituto compounds the effect with several similar light-casters, radiating a rainbow of color on three walls.
Also from Chicago, Michele Graves has constructed a "breath machine" to meld light and language. Exhale into the contraption's mouthpiece, and be rewarded with a word projected in light that then travels towards a phrase-filled mural on another wall, changing into a beam that lights up a matching, or complimentary, set of words.
No longer on view, but meriting mention, was an installation by artist collective The Lullwood Group. Glowing balloons filled the floor, lit weather balloons hung down, projected colored light mixed with all, while the collective's members clad in white uniforms like demented lab techs walked about the crowd welding balloons shaped like tires colored in Warhol silver. Photo: Chris Castillo
Kia Neill's glowing installation hangs from the ceiling like magic fruit in a movie filled with swords and sorcery. Created by LED lights wrapped in paper, with burlap, cut aluminum cans, and Spanish moss in the works, the Houston artist's illusion of a dark forest is more successful now that the crowds have left, leaving the light blocks undisturbed, and the room darker.
A darkened hallway is the site of a series of pieces by Chicago team Melissa H. Potter and Paul Catanese. Handmade paper is embedded with glowing wire to form rough geometries that have a rune-like quality, and like Neill's work, hint at story. But whether private symbols or just shapes, it's the eerie glow that captures one's attention.
Brooklyn's Carol Salmanson has presented a seemingly simple, but disturbing, installation. Made of Plexiglas, vinyl, and lined with rows of tiny LED lights, her 10 boxes are electric minimalism and something disquieting, too. Attached to the walls in a sequence that goes now higher, then lower, the pieces refuse to resolve as a line, or separate into discrete objects. Photo courtesy of the artist.
An eight-foot tall, three-sided pyramid by SA artist Jonathan Sims is covered with motifs that seem vaguely Sci-Fi, an interstellar language, perhaps. One of the sides is missing; lines of small lights describe the plane instead, allowing one to see inside a smaller triangle — a pyramid within a pyramid. Secrets revealed to reveal, of course, more secrets.