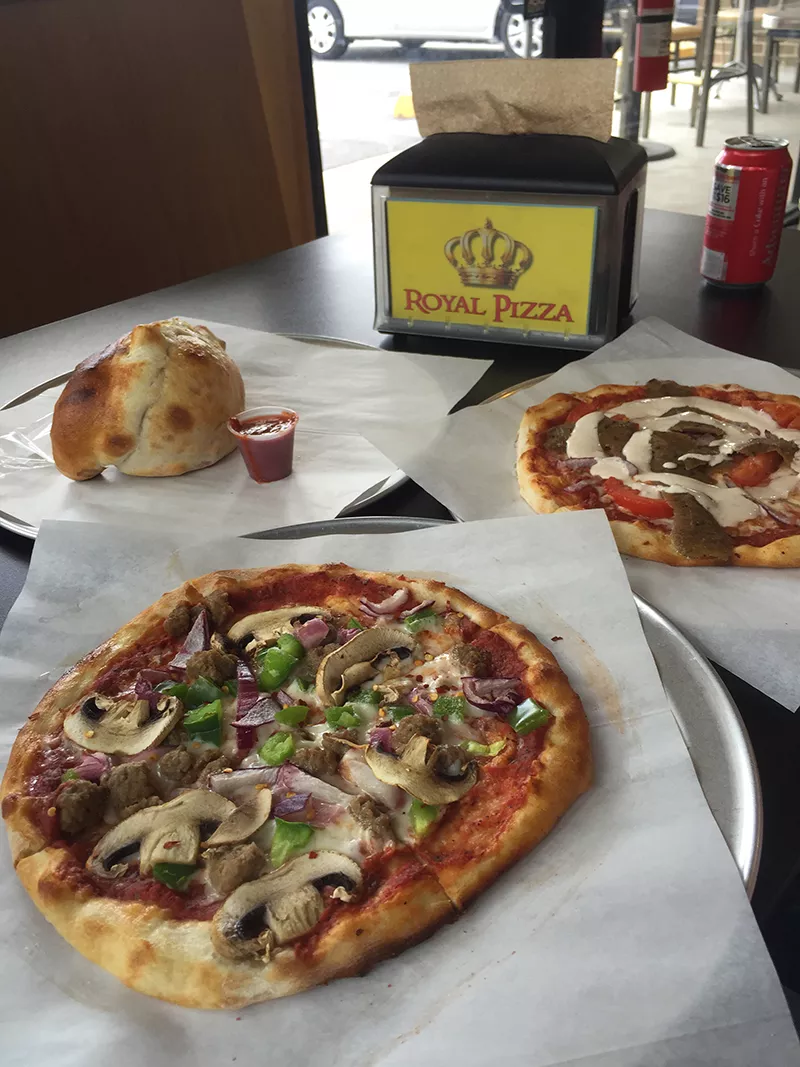 Taylor Allen
Pizzas fit for a king.
"Lunch Special: 4 Slices and Soda for $3.99."
A frazzling statement.
When I saw this advertised, I was intrigued, nervous, searching for fine print that maybe this was only available on the fifth Thursday of the month or that it only included week-old pizza. After skimming Royal Pizza's menu of unique topping combinations, I was even more interested in seeing what this place was all about. The joint's proclamation as 'Swedish pizza with a European flavor' offered no help as to what to expect.
Accompanied with some gutsy co-workers, we were greeted with a pleasant aroma of fresh baked pizza wafting from the parking lot. As we walked in, ubiquitous flyers confirmed, indeed, that this $3.99 lunch special was not some figment of my imagination. At the counter, two additional lunch specials were presented to me: a $5 calzone or a $5 personal-sized version of the Spurs Pizza (one of the pizza combinations on the menu). I assume that this option rotates daily through their menu.
Just for clarification, this place is not a pizza-by-the-slice joint. If you want to try one of their creative Italian/Swiss-infused pizzas, you will need to commit to ordering the whole thing. The four-slice pizza is actually a 7-inch personal sized pie. The basic lunch serving offered the choice of cheese, pepperoni, or sausage with the option to add more meats or vegetables for 50-75 cents per add. I went with the sausage pizza with green peppers, onions and mushrooms. Simple, but a good way to test the basics.
The Spurs pizza on the other hand, is not your average offering. For the folks at Royal Pizza, the Spurs conjure up a pie with thinly sliced gyro kabob meat, tomato, onion and a house spicy tzatziki sauce. There is a gyro meat skewer behind the counter, a contributing factor to the aforementioned aroma outside the eatery. The gyro meat, not too greasy and a pleasant bite, was topped with the house tzatziki, a nice touch.
You can customize your calzone with any of Royal Pizza's extensive ingredients. Unlike most calzones I've had with denser bread that resembles more of a pizza folded in half, this one was a thin-crusted airy pocket of saucy goodness.
The take away with Royal Pizza is that it's great, cheap food. The lunch special options are limited, but their entire menu is available should you be in the mood for something like the full-size serving of the Istanbul (banana, pineapple, curry pepper and ham).
Royal Pizza
4415 DeZavala, (210) 399-2220, royalpizzasanantonio.com