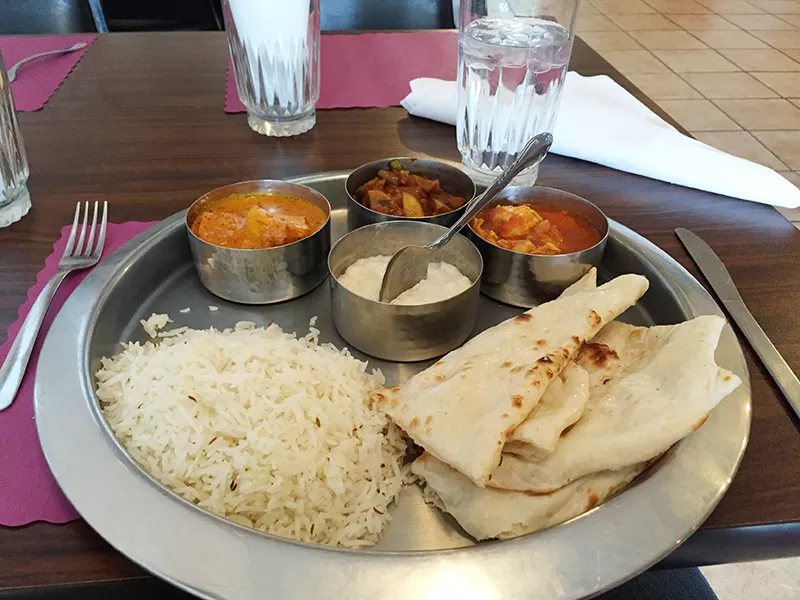 Taylor Allen
Taste of India offers endless combinations for carnivores and vegetarians alike.
For those of us working on the city's far North Side, we understand the struggle is real when it comes to finding authentic local dining options in a sea of suburban chain restaurants. Finding quick, cheap, local lunchtime grub in this non-chain desert sounded like a challenge best suited for Lunchtime Snob. Challenge accepted.
Taste of India, nestled in your standard suburban strip center, offers quick service, inexpensive, no-frills Indian cuisine. Never at capacity, this place is great for a solitary lunch or a big group. What I can only assume was an effort not to distract from the food, décor is at a minimum and ambiance is created solely with Bollywood films quietly playing in the background. There is a woman who acts as hostess, server, and cashier and a man in the kitchen cooking the selected dishes for the day.
Although Taste of India (formerly Taste of Malabar) has an extensive menu of traditional Indian vegetable and meat dishes, the laminated menus are marked up daily to reflect the three or four items from each category that will be offered. Personally, it keeps me on my toes and prevents me from getting too comfortable with a single menu item. Your plate options are dal plus, a lentil soup, two veggies or one vegetable and two meats for $6.95. Both come with ample, presumably homemade naan, rice and khir. Meat dishes include a variety of curries, tikka masala and vindaloo (curry broth with meat and potatoes), all of which serve as excellent naan dipping options. Refreshments include water, tea and soda in a can. There is also wine and beer available, but probably better suited for dinner. A quick peek at the dinner menu reveals a line-up of appetizers, seafood and specials.
My lunch visit included chicken curry, chicken tikka masala, and mushroom masala served on shiny stainless steel trays. I am no expert in the art of Indian food, but I do know that I am always satisfied when I'm walking out the door. Taste of India is generous with its naan, ample protein servings in each dish and seasonings that are sure to warm you up. Even though I'm not usually a fan of desserts outside of American and western European cuisine, Taste of India's khir has just enough sweetness to fulfill my sweet tooth at the end of the meal.
I was in and out in less than 25 minutes. Although you can certainly linger if you choose to, it's nice to have a place for a sit down, authentic meal that isn't going to take your full hour for lunch.
Taste of India
5999 De Zavala, Suite 109, 561-4409, 11am-2:30pm and 5-9:30pm daily