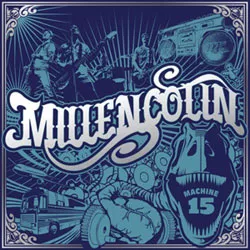 Machine 15
Composer:
Millencolin
Conductor:
Millencolin
Label:
Burning Heart/Epitaph
Release Date:
2008-05-07
Rated:
NONE
Media:
CD
Length:
LP
Format:
Album
Genre:
Punk/Hardcore
After a three-year break, Swedish skate-punk veterans Millencolin have returned with their seventh studio album, Machine 15. They've weathered the difficulties inherent in staying together through a decade and a half, and the inevitable shucking punk rock has experienced since the mid-'90s. Though they're not telling us anything we haven't heard, each song clearly shows their ability to candidly express ideas and connect with listeners through accessible, familiar imagery. In doing so, they've slowed down their tempos just a tad.
Opening the album with the title track, a light kick drum and plucky guitars help transport listeners through a history of the band, acknowledging their roots with lines such as, "Ever since Goofy gave birth to this machine," a tip of the hat to their 1993 demo. "Well, motion is the goal" is a straightforward mantra that embraces the kinetics of their career.
On some songs, Nikola Sarcevic's vocals are particularly big and reverberate through the chorus, especially on "Done is Done," penetrating all resistance to make peace with the idea that things won't always go his way.
The poppy canticle "Detox" seems silly and disjointed on first listen, but comes together with more attention. "Broken World" is a clever tune that pairs unlikely shards of human history to accent how far we've come, whether for good or bad. "To get from mammoth to pizza took us/Twenty-seven thousand well-spent years," they argue, derisively confronting the state of the environment and politics.
Weighing the risk of trading one seemingly miniscule thing for something larger and more valuable, they lean on the famous line from Richard III, "A horse! A horse! My kingdom for a horse!"