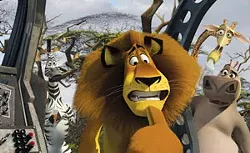 Critic's Pick
Madagascar : Escape 2 Africa
Director:
Eric Darnell, Tom McGrath
Screenwriter:
Eric Darnell, Tom McGrath
Cast:
Ben Stiller, Chris Rock, Jada Pinkett-Smith, David Schwimmer, Sacha Baron Cohen and Cedric The Entertainer
Release Date:
2008-11-05
Rated:
PG
Genre:
Film
Disregarding the intelligent-design theorem — which I believe postulates we were all extracted from our procrastinating lord's poop shoot as a last-minute science-fair project — Africa's fertile delta is our ultimate motherland. Madagascar 2, in its best moments, oh-so briefly, oh-so-superficially broaches this concept, simultaneously lampooning both modern self-absorbed therapy culture and its misguided idealization of primitivism. But mostly it's high-fiving penguins and monkeys wearing people clothes.
We begin with Alex the lion (Stiller) as a playful, easily distracted cub, son of the pride's alpha male, kidnapped by poachers while his father fights for supremacy. Relocated to the Central Park zoo, Alex retains his father's swagger without the savagery, filling the bill as the proclaimed "King of New York" with macho vogue-ing and misplaced self-confidence. After an accidental excursion to the titular island of the first film, Alex and his friends Gloria the hippo (Pinkett-Smith), Melman the giraffe (Schwimmer), and Marty the zebra (Rock) attempt to escape to New York in an airplane restored and piloted by penguins in a screwball action scene.
The plane conveniently crashes in the vicinity of his birthplace, and Alex expectedly reunites with his parents. He soon learns that the concept of masculinity is drastically different in the wild, and attempting to reconcile Alex's identity with the expectations of his family without sacrificing his uniqueness gobbles screen time, and forces the screenwriters to make some pretty ridiculous choices, even for a kids' movie. Marty's complementary struggle to retain his identity in a herd of like-minded zebras is mostly for laughs, sadly playing on the inherently racist conceit that even his best friend can't distinguish him from the other members of his herd. But, even by comparison, hypochondriac Melman's stint as a witch doctor is shamefully ignorant, requiring him to sport every native African stereotype from the neck-extending metallic rings to the bone through the nose. The thematic commitment to individuality, though, and its favoring of extended old-school sight gags over the typical computer-animated fart jokes makes Madagascar 2 a worthwhile and unique experience.