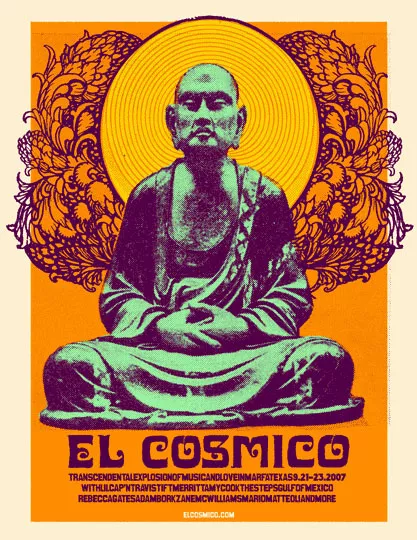 The fabulous bunkhouse hotel El Cosmico has announced the dates for its 9th annual Trans-Pecos Festival of Music + Love. Occurring September 25-28, the Trans-Pecos fest offers an "alchemystical blend of music, art, baseball, friends and more under the big sky," according to El Cosmico's website.
Though its has been a literal hotbed of artistic activity since minimalist Donald Judd established the Chinati foundation there in 1977, in recent years Marfa has become a stop for touring bands on their way from New Mexico towards South Texas. In the weeks leading up to SXSW, indie label Mexican Summer hosted a SX-style showcase at El Cosmico. In a recent interview with the Current, techno-poppers Yacht called Marfa "actual reality." And of course, the Trans-Pecos Festival of Music + Love—named after the Trans-Pecos mountains rising from the desert landscape—has hosted artists including Robert Plant, Patty Griffin, M. Ward and Robert Ellis in recent years.
Presale tickets are available at El Cosmico's site for $100, until May 1 .