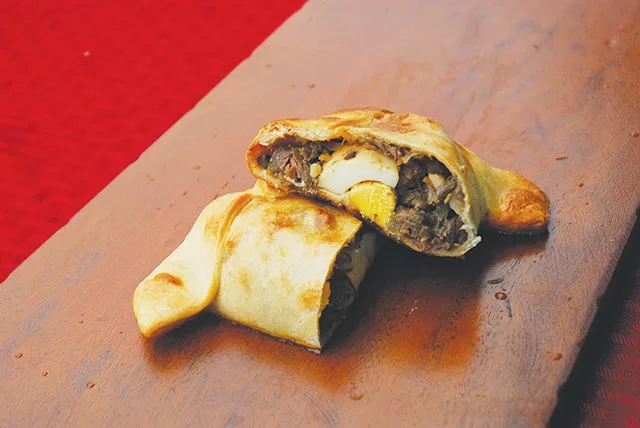 Miriam Sitz
You'll be asking for a yapa from YAPA, especially the savory Conquistador empanada
The tempting smell of fresh empanadas wafts through the Quarry Farmers & Ranchers Market on Sunday mornings, emanating from the YAPA Artisan Empanadas booth. For the last two months, artisan empanada maker Leopoldo "Polo" Valdes and his wife, Laura Tansey, have spent their weekends in the midst of the bustling farmers market.
Yapa is a term with roots in the Quechua and Mapuche languages that means a little something additional or a bonus given without obligation. Valdes explained that in Andean markets, customers will often ask vendors for a yapa, or a bit more, to complete their purchase.
Valdes, a native of Santiago, Chile, has lived in the States for four years. "I started missing the food of my country, and I started making empanadas for friends," he explained. "It began as a hobby, but I always wanted to have my own business."
During the week, Valdes prepares the empanadas at La Fonda in Alamo Heights. Renting the restaurant's kitchen has served him well so far, but as his production increases, so do his demands for space. "I'm right there at the point where now I'm good," he said, "but if I get to 800 empanadas I'm going to have to find more space."
He began with making just 90 empanadas each week. Now that YAPA has expanded to the Pearl Farmers Market on Saturdays, in addition to Sundays at the Quarry, that number has jumped. "Next week I'm going to make 600," he said. "It's growing fast!"
Understandably so. YAPA offers savory meat empanadas like the Come y Calla, with smoked brisket and barbecue sauce, and the addictive Conquistador, a traditional Chilean combination of spiced beef, onion, hard-boiled egg, black olives and raisins. A spoonful of fresh pebre (somewhat reminiscent of pico de gallo, pebre is a tasty and typical Chilean condiment made from onions, olive oil, garlic and peppers) completes the empanada experience.
Tansey helped develop the recipe for the spinach and goat cheese empanada, which contains Swiss chard, pecans and onion. There are bite-sized caramelized onion empanadas, sweet potato empanadas and, most recently, YAPA has introduced a dulce de leche option. "We are adding more empanadas every week," Valdes promised, suggesting that two more, chicken and picadillo, are in the works.
"The human interaction is so nice," Tansey said of the weekend markets. The couple plans to remain at the Quarry and the Pearl, but Valdes also has aspirations for further growth. "I see myself having a bakery, making deliveries, selling at little shops," he said. "That's my dream, to have a kitchen and a storefront. It's hard work but it's worth it."