Jaime Monzon
Mastodon

It's not too, too often one can catch a stacked metal show in a theater setting like The Aztec. And besides the Cannibal Corpse and Children of Bodom/Abbath concerts, last year, it's rare that the venue hosts those types of shows. So when I saw that three of some of the best bands in rock, metal, and post-metal were all on one bill, and playing the Aztec no less, I jumped on the chance to review the show.
For 17 years, the Atlanta-based band metal band Mastodon has been melting the faces off of unsuspecting audiences with their technical, prog-metal movements. Saturday night, in support of their latest record, Emperor of Sand (and new EP Cold Dark Place) the band stopped in San Antonio with Eagles of death Metal and Russian Circles … and sure enough, our faces got melted.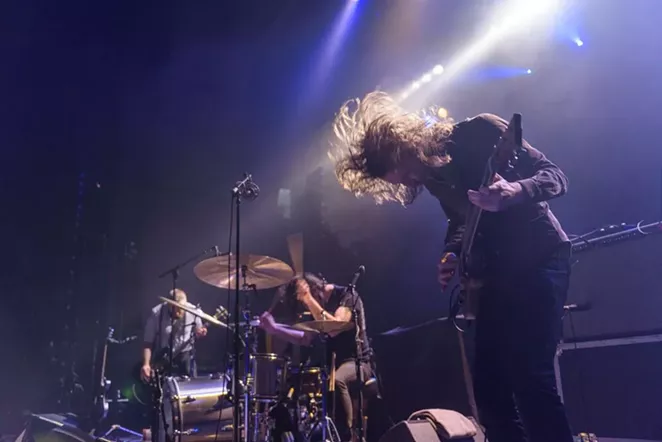 Jaime Monzon
Russian Circles
Kicking off the night were Russian Circles, a three-piece post metal group that could easily score Armageddon … not the movie, but like, the actual end of the world. The band pulled the audience through about 45 minutes of thundering, atmospheric rock that would swell and break into moments of thrash metal. What lacked in minimal lighting was made up for in watching the three members navigate their instruments and effect pedals to build a sound that could be described as massive and celestial.


Jaime Monzon
Eagles of Death Metal
Up next were Eagles of Death Metal. With the recent mass shooting in Vegas and the attack that happened at the EODM show in Paris in November of 2015, I couldn't help but think about my exits. I'm not necessarily a paranoid person either. But, despite the fear, frontman Jesse Hughes (AKA Boots Electric) with his wild stage antics (booty shakes, hip gyrations, etc.) helped us forget about possibly dying enough for us to enjoy the set. Coming out in a sombrero, Hughes and the gang rocked the audience through an hour of boots-to-your-gut rock 'n' roll worthy enough to stand against the mammoths of Mastodon.



Jaime Monzon
Mastodon
Closing out the night was, of course, Mastodon. With a roar from the audience, the four-piece tore into almost 2 hours of non-stop metal leading all the way back to 2002's Remission. In a world where bad metal seems to pass as good more than it should, this past Saturday night, Mastodon harnessed the emotional intensity of the genre while displaying a sophisticated and intentional control over their instruments, songwriting and performances – a combination few in those spheres will ever come close to. "You guys have an amazing city and this is an amazing crowd," bassist Troy Sanders sais before the band jumps into "Ember City" from 2014's Once More 'Round The Sun.
What probably stood out the most from the night was how vastly different all bands sound from each other and yet were all on the same bill. Here's to hoping variety catches on and we start seeing other bands taking tips from this tour.