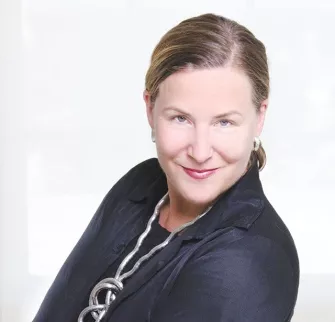 Photo by Andrew Watson
UPDATED: March 30, 2014, 10:45 a.m.
The Current learned Friday evening that Dr. Maura Reilly, who joined The Linda Pace Foundation as executive director just last June, has parted ways with LPF. Rick Moore, president of the Linda Pace Foundation, confirmed late Saturday evening that Reilly left LPF effective Thursday, March 27.
Many details remain unclear to us at this time, but we have reached out to Reilly, LPF staff and  trustees for comment. Check back for updates.
"While we are unable to discuss details of her departure, Maura accomplished  many worthy projects in her brief tenure: the installation of Arturo Herrera's ADAM mural near Main Plaza; the recent acquisition of a monumental sculpture by Andrea Bowers, Memorial to Arcadia Woodsland Clear-Cut (2013); the conversion of the Linda Pace Foundation's first office into SPACE, a public exhibition space; and other significant projects. We wish her well," wrote Moore in an email.
Sarah Fisch interviewed Reilly in January, during which time Reilly revealed major plans for the Foundation, including re-configuring the organization's offices into a gallery space open to the public (the SPACE Moore mentions above) and re-igniting discussions about creating a museum for LPF's dynamite collection of contemporary art.
Moore confirms that the public opening of SPACE will still occur on the weekend of April 18-20, featuring a show entitled "Pace Gems" curated by Reilly. He also said that the Board of Trustees plan to maintain the forward momentum on the David Adjaye-designed "campus" (to use Moore's phrasing) that would house the LPF collection as well as host exhibitions by international artists.
Moore also indicated that the Board, which has seen two executive directors and one interim director since late 2010, would proceed cautiously in choosing a new director. Rather than immediately launch the search for a new director, "the trustees of the LPF will engage in a transition period of revisioning for the future, and also discuss the best model for interim leadership."
The Current has reached out to Reilly for comment, but at this time, official sources are staying mum on the exact reason for the departure.
This is just the latest in what has been a whirlwind year for San Antonio's major art institutions; Blue Star Contemporary Art Museum saw the departure of longtime director Bill FitzGibbons in May, and the announcement that interim director Steven Evans (formerly of LPF) would not make his post permanent in late November; Evans' replacement turned out to be Mary Heathcott, who left an often indispensable role at Artpace; just last month, many in the art community were shocked to learn of David Rubin's resignation from the San Antonio Museum of Art, where he had been the contemporary art curator and which followed the elimination of the Latin American art curator position.