Jaime Monzon
Friday's Maverick Music crowd
Set in the historic San Antonio fiesta hot spot, La Villita was home to some not-so-traditional music this weekend. On day one of year three, Maverick Music Festival blew the lid off of downtown SA with some top indie acts. The scent of classic fest foods with a south Texas twist wafted through the air, including Gorditas, a variety of meat kabobs appropriately titled "Heaven on a Stick" and the always worth-it-yet-so-greasy funnel cakes. But amongst the food and booze, everybody had one thing on their mind: to shred.

Brownout Presents Brown Sabbath

Jaime Monzon
Brownout frontman Alex Marrero as Chicano Ozzy Osbourne
"We know this is a family affair, but we're Sabbath so fuck it" said singer Alex Marrero cheekily. Flailing around onstage, Marrero was acutely aware of his effect on a crowd thirsty for Brownout's Latin funk covers of classic Black Sabbath songs. It was like experiencing a pre-drug ravaged Ozzy Osbourne, complete with three costume changes and an eccentric aura. Bitchin' guitar solos and even bitchin'-er bongo solos astounded the dumbstruck audience. But it got real when Brown Sabbath broke out the heavy artillery of
"War Pigs."
Seriously, there were more devil horns than a Dio concert.

Chris Conde + Moonglow
Jaime Monzon
SA songwriter and rapper Chris Conde
The Juarez Stage was home to some of the best of the local scene, and although the stage was small, the talent was immense. Hot off the heels of a fierce performance by Pink Leche, fellow queer artist/resident cool guy Chris Conde brought the La Villita stage down with lightning fast raps, melodic singing, all the while dazzling the crowd with some fancy footwork and guitar shreds.
One of the more intimate acts of festival, set in the beauty of nightfall, was Moonglow. With the grandeur of a piano, the delicacy of an acoustic guitar and the duo's harmonization, the SA indie-folkers sounded heaven sent. Although the pianist Steph Huskin's voice was sweet like a song-bird, it contained the power and the majesty of an eagle.
Portugal. The Man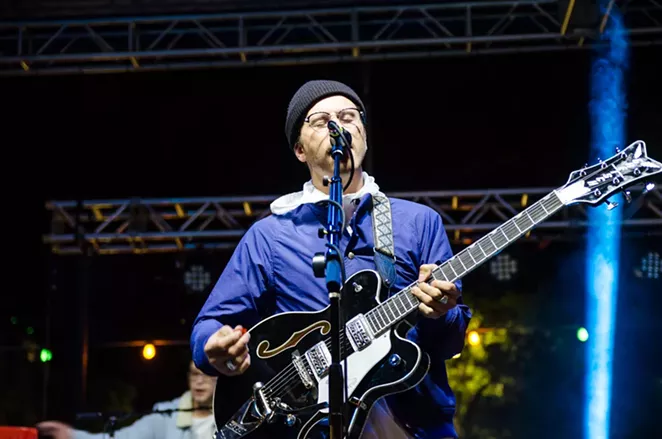 Jaime Monzon
John Gourley of Portugal. The Man
The buzzed, dense crowd anxiously waited for the final act of the night, full of fried food and beer. When Portugal. The Man entered onto the stage without a word, backed by a psych-out instrumental, the crowd was sent into a hazy daze. Portugal. The Man launched into a rockin' near-proggy set, with the packed audience vibing and chilling to the music. As it did all evening, the luminous San Antonio skyline coincided with the music harmoniously in the clear, starry night.
Update: Monday, April 13, 2015, 10:00 a.m.
In the caption of the Portugal. The Man photo, we identified the singer as Zach Carouthers, which has been corrected to John Gourley.