An author who's made millions bringing life to his poignant, violent and well-crafted visions of zombie lit, Max Brooks has turned his attention back to reality for his newest effort The Harlem Hellfighters, in stores on April 1. A collaborative project with illustrator Canaan White, the graphic novel documents the 368th Infantry Regiment's trials and successes in WWI. Nicknamed the Harlem Hellfighters, the 368th was composed exclusively of African-American soldiers, overlooked and poorly equipped by the American Expeditionary Force in Europe, but lauded by the French.
Though White's illustrations take gruesome liberty with the newly-industrialized military horrors of the Great War, Brooks grounds his tale loyally in history. Recounted by an unnamed, fictional soldier in the 368th, The Harlem Hellfighters follows the archetypical, if somewhat stale, story arc of enlistment-bootcamp-combat, as laid down in HBO's Band of Brothers.
Author Max Brooks
Like the better works of the hybrid form, The Harlem Hellfighters grabs the attention of those who aren't usually down for comics. Shying away from comic book ploys, White draws audiences in with swirling images of violence. Though occasionally crowded in his illustration style, White's best work appears on pages with fewer narrative panels, stressing Brooks' bloody language in black and white ink.
"The nice thing about a graphic novel is that it's still a visual medium without any economic restraints," Brooks states in the work's press release. Originally intended as a movie, but scrapped for lack of studio interest, Brooks returned to the project in 2006 after working on the graphic companion to his best-selling first effort The Zombie Survival Guide. Luckily for Max, the son of comedic legend Max Brooks and actress Anne Bancroft, Will Smith's production company Overbrook Entertainment optioned The Harlem Hellfighters for an upcoming film release.
Illustrator Canaan White
As the 100-year anniversary of WWI draws close on July 28, 2014, The Harlem Hellfighters is a welcome addition to WWI historical fiction and to the form of the graphic novel. Though his bread and butter is still in zombie fiction (see the geopolitically aware and deeply engrossing novel World War Z) Brooks can achieve in reality as well, bringing to light the oft-overlooked and compelling story of the 368th. It's the type of work that history teachers long for and students burn through, unaware they're learning until its too late.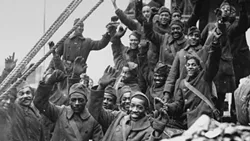 The 368th Infantry Regiment, or "The Harlem Hellfighters"