Max Thieriot stars as Ryan in the thriller "The House at the End of the Street."
In the thriller The House at the End of the Street, actor Max Thieriot (My Soul to Take) plays Ryan, a young man who is the sole survivor of a heinous crime committed in his home years earlier. When a mother and daughter (Elizabeth Shue and Jennifer Lawrence) move into the house next door, they begin to experience strange things, but aren't sure if it has something to do with Ryan and his dark past.
You've worked in this genre before. What attracted you to this role in The House at the End of the Street?
Yeah, this is the second film I've done in the genre. HATES is a lot different than My Soul to Take, which was my previous film. It's much more of a thriller and much more psychological. I think the script drew me to the project. After I finished reading it, I was so surprised by the ending. I couldn't stop thinking about it for a while. There are a lot of scripts I read that I can pick up on what's going to happen, but HATES was very unpredictable.
Your character has been through some major tragedy in his life. How do you confront a character like him?
Ryan has been to hell and back. He's seen it all. He's experienced a lot of tragedy. I did a lot of research and read a lot of articles and tried to get myself in the mindset of someone like him. I wanted to understand all the layers he has to him. I did a lot of homework. It was difficult, but it was worth it.
You mentioned your last horror movie My Soul to Take, which was directed by horror icon Wes Craven. The film didn't fair too well at the box office or with critics. Were you at all worried to go back into the horror genre because of this?
For me, obviously you want your films to make money at the box office. But for me it's not making something that is going to make the most money. It's about making a good project and what I think is a good film. Sure, I had my doubts doing a genre film, but I find HATES to be very different. I don't think it really falls into the same category.
What about critics? Do you read reviews of your movies?
Not unless they are sent to me. I mean, obviously everyone is going to have an opinion. That's fine. So do I. People like things based on what their taste is. I find it interesting to see what people say. If it's negative, it doesn't bother me. There's always going to be naysayers, but that's fine.
Along with the script, do you decide on a project based on the actors you'll be working with? In HATES, you get to work with two Oscar nominees: Elizabeth Shue and Jennifer Lawrence.
Yeah, definitely. To be totally honest, Jennifer Lawrence was not the same Jennifer Lawrence she is now. Winter's Bone hadn't even been released. Her name meant nothing at the time. But I got to read with her and right away I could tell she was very talented and had a passion for this. When I was told Elizabeth Shue was coming on board, it was very exciting. She has done some awesome movies. Something I really admire about her is that she continues to stay grounded and be true to herself.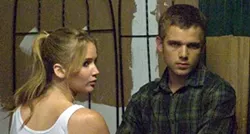 Thieriot and Oscar-nominated actress Jennifer Lawrence ("Winter's Bone") in "HATES."
You bring up a good point about Jennifer. This film was supposed to be release in April but was not for whatever reason. Do you think her success in the industry in both Winter's Bone and The Hunger Games, gave studios a reason to greenlight a film like HATES for a theatrical release instead of sending it straight to DVD?
Yeah, I think Jennifer has a lot of pop right now. I don't think many people in the general public saw Winter's Bone, but obviously The Hunger Games is a worldwide phenomenon. I think that definitely is a positive thing for our film. She has a fan base now. Hopefully, more people want to see more of her. This will be the first chance for them to see her since The Hunger Games came out. I think it's good timing.
Do you feel your choices in the roles you take are maturing as you get older? You started off in the family action film Catch That Kid when you were about 15 and later went on to play a role in a darker film like Chole. Do you feel that evolution or does it happen naturally for you?
Yeah, I feel it. We do it on purpose. I'm trying to expand and do different types of films. I try and do as much variation as I can. I try and chose the projects where I can work with other talented actors and people in the business. I still want to branch out more and do a little bit of everything. But it's difficult at my age because I'm kind of an in-between. I'm just trying to find the right stuff.
I bet there is tons of competition out there. Does that motivate you to work harder or is it overwhelming at times?
Yeah, it does motivate me to work harder. At the same time, don't take it personally. That's the business. If I don't get a job, that doesn't really offend me.