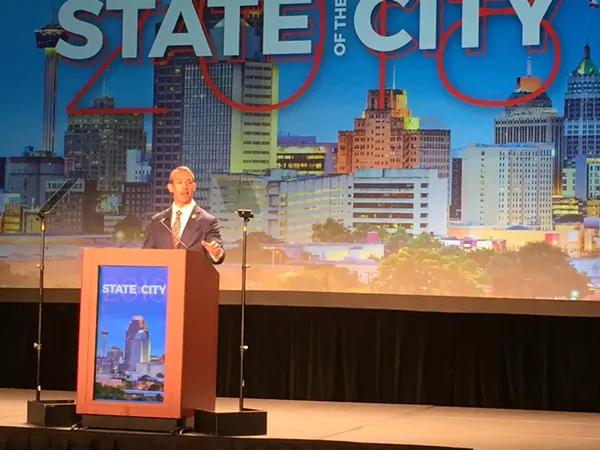 Sanford Nowlin
Mayor Ron Nirenberg delivers his State of the City address.
Editor's Note: The following is Their Town, a column of opinion and analysis.
San Antonio jobs have been on my mind lately for a completely self-centered reason. I've got two daughters graduating in early May – one with a bachelor's degree from Texas State University, the other with a master's from UTSA – and they need jobs in their fields. This is the self-centered part: for me, it'd be great if they could find work in their hometown.
So you can imagine my relief when Mayor Ron Nirenberg pledged during his State of the City speech on April 10 to create 70,000 new area jobs over the next two years – "more jobs than any mayoral administration in San Antonio's history."
Now, if he would only summon the same magical powers to insure nice weather for my kids' graduation ceremonies. And maybe do something about the Spurs.
To give you some idea of how big Nirenberg's commitment is, consider the number of jobs added in the San Antonio area between February 2017 and February 2018 – 24,600, an increase of 2.4 percent, according to the Bureau of Labor Statistics.
Economically, last year and the early months of this year were respectable – not stellar but solid. Double that annual number of new jobs, and you still have only 49,200.
Nirenberg cites a bigger number from the Federal Reserve Bank of Dallas: 33,100 jobs created in 2017.
Looking ahead, he almost certainly knows about a handful of big deals in the works – major companies looking to set up operations in San Antonio or large local employers thinking about increasing their workforces. Mayors know about these developments weeks or months before the rest of us. For one thing, corporations considering an investment in San Antonio – and 9.9 times out of 10 asking for public giveaways – want to know they have the mayor's support, and that he or she won't do or say anything that'll embarrass them.
But 70,000 jobs worth of prospects, or anything close to it? Seems unlikely – unless Amazon is secretly pleading with our city leaders to allow the company to locate its second U.S. headquarters here and the 50,000 employees who will run it. Of course, that would mean forgetting Nirenberg's and County Judge Nelson Wolff's super-awkward refusal in October to participate in Amazon's site-selection process.
Jobs goals are usually a political ploy, a gesture that politicians make assuming nobody will remember after a few months or bother to check on later. The pledge-maker looks bold without going through the hassle of being bold.
Which is similar to boldly taking up the transit mantle by creating a private-public nonprofit – ConnectSA – to craft a sorely needed transportation plan for San Antonio and sell it to voters.
Keeping in mind that San Antonio's major chambers of commerce host the annual State of the City speeches, staking out a big jobs goal is a way for Nirenberg to tell the all-important business community, "I'm not a California-inspired radical. I'll do what it takes to create the conditions for strong employment growth." The grittier part of the message is: "… so support my major initiatives and back me at election time."
In part, that's just how politics works. You try to pack meaning into a single, clear-cut, compelling idea whenever possible. In other words, you rely on shorthand.
The problem with a huge jobs target is that it grossly exaggerates the direct impact that local government and the public-private San Antonio Economic Development Foundation (EDF) have on the regional economy. In 2015, for example, EDF – the area's go-to jobs recruiter – worked 20 deals that generated 4,350 jobs, according to a study on the foundation's website. That works out to about 20 percent, or one in every five, of the 21,800 jobs added that year in the San Antonio metro area.
The city's real power is in tending to the basics – insuring that neighborhoods and business districts are safe, that everyone has access to parks, libraries and other amenities, that the city's investing in a multi-pronged transportation system. Add reasonable taxes and fees, a good public education system and a skilled workforce, and that's what prospective employers want out of a city. Incentives are on the list, too, but not at the top.
To be fair, Nirenberg talked about this reality in his State of the City speech, saying, "We want to [add 70,000 new jobs] by creating the kind of city that people will want to live in and move to."
"And we'll do it by insuring that San Antonio remains people-focused and business-friendly," he added, "so that our regulatory environment encourages more investment, not less."
He often makes the same point when discussing economic development and job growth in other settings. But I can't shake the feeling that his 70,000-jobs pledge served another purpose, apart from alluding to the need to work on the fundamentals and win business support.
Nirenberg has been a perpetual-motion machine when it comes to creating commissions, task forces and nonprofits to tackle San Antonio's biggest challenges, including affordable housing, air service and transportation. He also conjured up an informal Blue Chip Jobs Council.
But he doesn't have much to show for the first 10 months of his administration, and he hasn't articulated a vision for San Antonio that excites people.
His jobs pledge is merely the appearance of dynamism, not the real thing. It's hocus pocus.
Stay on top of San Antonio news and views. Sign up for our Weekly Headlines Newsletter.