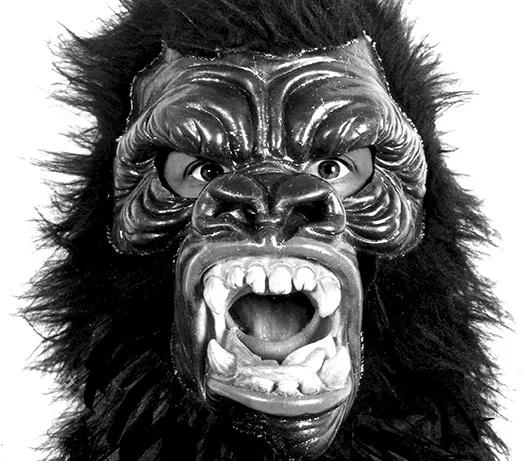 "Creative complaining" may be a signature term for the Guerrilla Girls, but it doesn't even begin to scratch the surface of the feminist/activist collective's accomplishments.
Born out of outrage at the 1984 Museum of Modern Art exhibition "An International Survey of Painting and Sculpture" (which featured 169 artists, only 13 of whom were women), the group set out to publicly embarrass institutions and galleries with terrible track records in terms of female representation. Provocatively dressed in gorilla masks and all-black attire — often miniskirts, fishnets and high heels — the group expressed their discontent with the state of affairs by plastering posters and stickers throughout the gallery-dense streets of New York's SoHo neighborhood, giving out bogus awards for things like "The Apologist of the Year" or "The Most Patronizing Art Review of 1986" and noisily posing such pointed questions as "Do women have to be naked to get into The Metropolitan Museum of Art?" Exemplified by a humorous 1986 Report Card that tallied the number of women artists being shown in major galleries (Leo Castelli was "not paying attention," Pace was "working below capacity" and Mary Boone was just plain "boy crazy"), their mission to expose gender bias has encompassed both stealth interventions and full-blown exhibitions designed to critique museums for "bad behavior and discriminatory practices right on their own walls." Since anonymity is key to their modus operandi, the 55 current and former members adopted the names of late women artists, including Frida Kahlo, Georgia O'Keeffe and Gertrude Stein.
On Thursday, the McNay welcomes one of the founding members for a presentation in conjunction with its Distinguished Lecture Series. Although it's sold out, a limited number of tickets will be sold to view the lecture via livestream in the museum's Valero Learning Centers. Afterwards, guests are invited to "grab a banana and join for your choice of signature cocktail, beer or wine" at a ticketed reception.
$20-$35, Thu Nov. 15, lecture 6:30-7:30pm, reception 7:45-8:45pm, McNay Art Museum, 6000 N. New Braunfels Ave., (210) 824-5368, mcnayart.org.

Get our top picks for the best events in San Antonio every Thursday morning. Sign up for our Events Newsletter.