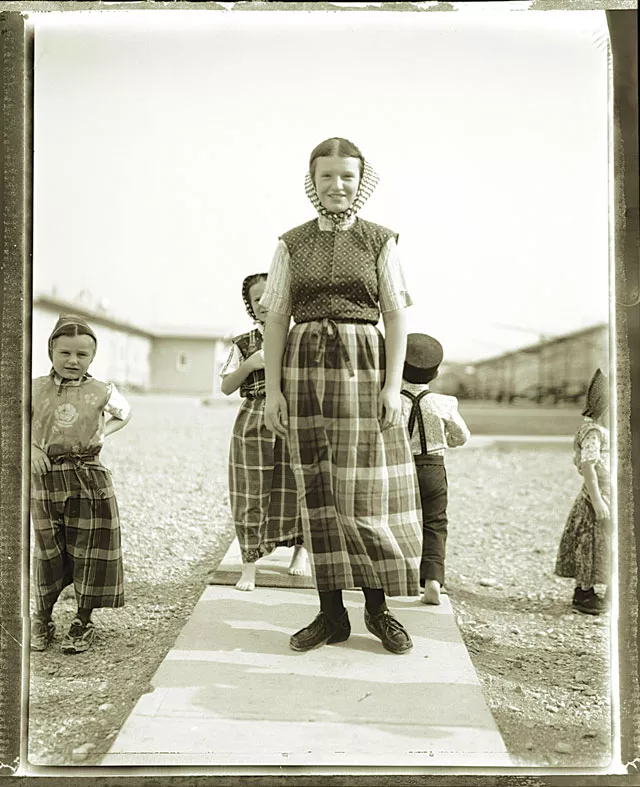 This Thursday night the McNay continues its series "Artists Looking at Art" with a talk by John Dyer, a Montana-born photographer who has spent over 30 years documenting the people of San Antonio and South Texas. McNay Chief Curator Rene P. Barilleaux noticed Dyer's portraiture several years ago when it was shown at the opening of the Museo Alameda. The photographs chosen for the talk, said Barilleaux, "are ones where the subject confronts the viewer — looking straight into the camera lens." Six black-and-white photographs, some of pairs of people, others portraying a single subject, are arranged tightly together, forming a wall of faces.
Influenced by the photojournalism style of Russell Lee, who photographed rural Texas in the 1930s and later taught at UT Austin, and the street realism of Garry Winogrand, Dyer has a keen eye for the visual cues that tell us where a person is from, who they are. Incidentally, Winogrand also spent time in Texas. He taught photography at UT Austin in the 1970s, assuming the post held by Lee for many years. Dyer had the opportunity to study with both photographers. "They represent the two extremes in photography," Dyer said, "content photographers and formalist photographers."
Lee documented rural poverty for the FSA during the Depression. "Lee talked about penetrating the subject matter," Dyer said. "It took a long time for me to understand what he meant." Dyer sees both Lee and himself as "makers of pictures, one who is in agreement with the subject and the environment to make a picture." Dyer contrasts this position with a "taker of pictures," the formalist who "walks through the world with a camera and makes decisions when to throw a frame around it." Both are high-risk endeavors, though in divergent ways. You will have to attend the talk to find out how.
In addition to shooting for Texas Monthly, Newsweek, and other national publications, Dyer has three books to his credit, including Conjunto, and is the co-author of El Vaquero Real: The Original American Cowboy. A commission for H-E-B will be available this fall, a book documenting out-of-the-way places that tourists usually miss. "Artists Looking at Art" begins at 6:30 p.m. Thursday, August 4, at the McNay Art Museum. A wine reception at 6 p.m. precedes the talk. The exhibition will remain on view through September in the Frost Octagon.