Diego Rivera, Zapata (detail), 1932
Revolutionary, sure. But Mexico's Emiliano Zapata isn't a hero to all.
Handsome and charismatic, Emiliano Zapata (1879-1919) championed agrarian reform and the rights of the downtrodden as one of the key leaders of the Mexican Revolution. With his big mustache, wide-brimmed sombrero and bandoliers strapped across his chest, Zapata could have been the model for the stereotype of the Mexican bandido, but his good looks may explain why he remains a favorite subject of Mexican artists and has become such an icon to the Mexican people.
Zapata commanded the Liberation Army of the South and fought to overturn his country's oppressive, feudal-like system of land ownership for the sake of the campesinos, or peasant farm workers. Ambushed and shot by government forces in 1919, Zapata became a martyr for Mexico's underclass, but meaningful land reforms were not enacted until the 1930s.
In the 1980s, Zapata's self-declared ideological heirs, the Zapatista Army of National Liberation, led by Subcomandante Marcos emerged in Chiapas and sparked the indigenous 1994 Zapatista uprising, which remains active, though less militant and gone from international headlines.
Drawing from the McNay Art Museum's expansive print collection, curator Lyle Williams has assembled about two dozen images of the revolutionary leader for "Viva Zapata!" on view through August 16 in the Lawson Print Gallery. Simple, graphic and direct, these prints are like stills from a black-and-white newsreel of the Mexican Revolution.
"It's wonderful to be able to do this finally," Williams said during a walk-through of the exhibit. "Over the years, I kept coming across images of Zapata and thought it would be interesting to see how different artists viewed him. For some, he was a hero, but others have a less favorable opinion. Most of the works are from the 1930s and '40s, but some are from the 1960s and later."
Unique to the McNay is a circa 1960 portrait of Zapata by Sarah Jiménez, who joined in 1963 the Taller de Gráfica Popular (TGP), an artists' print collective founded in Mexico in 1937 primarily concerned with using art to advance revolutionary social causes. Gazing intently at the viewer, his craggy features set against the black backdrop of his sombrero's rim, Jiménez's Zapata is the face of a legend.
"I asked Sarah Jiménez why she decided to do the portrait of Zapata. Her answer was simple, 'I thought he was sexy,'" Williams said. "On the other hand, I had a high-ranking official with the Mexican consulate over for a dinner party at my house and he saw a reproduction of her portrait that I have. He was outraged and couldn't believe that I would have the picture of such a despicable outlaw hanging in my home. In Mexico, what you think about Zapata seems to hinge on your social class."
Many of the prints in "Viva Zapata!" have entered the McNay's permanent collection through the generosity of Ricardo Romo, president of UTSA. Most are linocuts or lithographs and were created as fine art prints, though all can be traced stylistically to the vivid engravings, typically printed in newspapers and broadsides, of José Guadalupe Posada (1852-1913), considered the father of modern Mexican printmaking.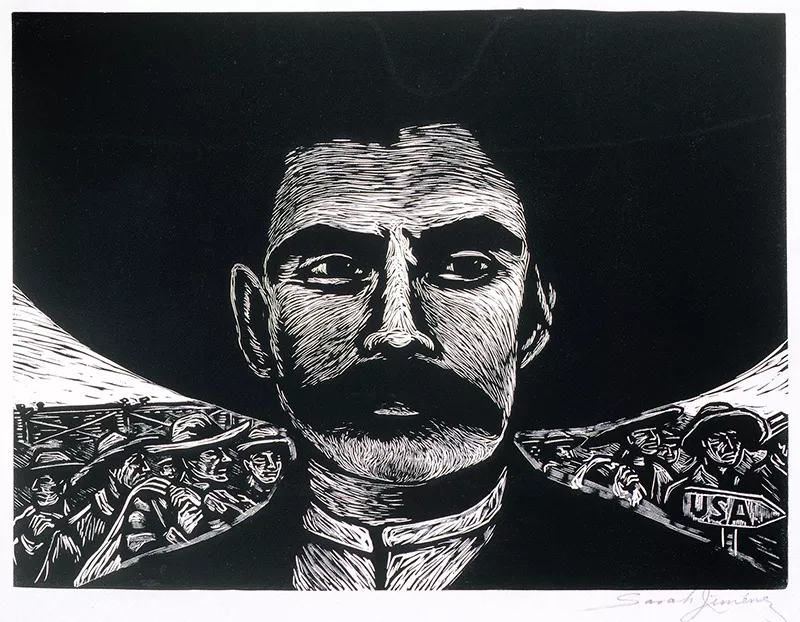 Sarah jimenez, Zapata, ca. 1960
Zapata's good looks added to his legend. Artist Sarah Jimenez: "I thought he was sexy."
Famed Mexican muralist Diego Rivera's lithograph Agrarian Leader Zapata (1931) is a landmark of Mexican printmaking and one of the best-known portraits of the reformer. Standing on a sword beside the dead body of a hacienda owner, Zapata holds the bridle of a majestic white horse. While Mexican and U.S. newspapers vilified the revolutionary leader as a treacherous bandit, Rivera's Zapata is a humble hero dressed in a campesino's traditional loose white shirt and pants. In real life, however, Zapata, who liked fine clothes, often wore the flamboyant outfit of a charro, a cowboy in tight pants and a vest with silver ornamentation that signified higher-class status in Mexico.
"¡Viva Zapata!" features two other portraits by "Los Tres Grandes" of Mexican art, David Alfaro Siqueiros and José Clemente Orozco. They also had their prints published by the Weyhe Gallery. Looking much too large for the horse he rides, Siqueiros' Zapata (1930) is an almost grandfatherly figure with the stiff, anatomically out-of-proportion look of a folk art effigy. By contrast, Orozco's Generals (1935) is a scathing indictment of the cult of personality that formed around Zapata. The lithograph shows a sea of men dressed to look like Zapata, but their faces have the wild-eyed look of fanatics.
In 1945, TGP began producing Estampas de la revolución mexicana, an ambitious series of prints by various artists interpreting the Mexican Revolution. Mariana Yampolsky created an image of the young Zapata crouching behind a tree, watching government soldiers beat peasant farmers. Drawn from the Romo collection, this is the first time the image has been shown at the McNay, Williams said. While he came to be identified with the campesinos, Zapata was actually born into a relatively well-to-do ranching family, but he saw wealthy landowners beating their tenant farmers enough times to become a revolutionary at an early age. Orphaned at age 17, Zapata was arrested in 1897 for participating in a protest by the peasants of his village against the hacienda, or plantation, which appropriated their lands.
Isidoro Ocampo's La Muerte de Emiliano Zapata, 10 de Abril de 1919, dominated by a mysterious man wearing sunglasses, alludes to the conspiracy theories surrounding Zapata's death. Hero or outlaw? Even modern Mexicans can't agree. But especially for the peasants and indigenous citizens of Mexico, many believe the popular protest slogan: "Si Zapata viviera con nosotros anduviera," or "If Zapata lived, he would walk with us."
¡Viva Zapata!
$5-$10, 10am-4pm Wed, 10am-9pm Thu, 10am-4pm Fri, 10am-5pm Sat, noon-5pm Sun, 10am-4pm Tue, McNay Art Museum, 6000 N. New Braunfels Ave., (210) 824-5368, mcnayart.org
Through August 16