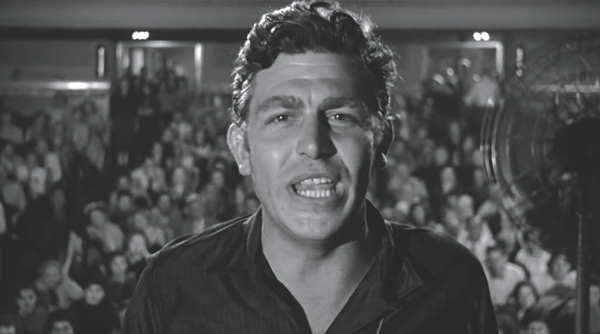 Following the success of their eight-time Oscar-winning 1954 smash
On the Waterfront
, director/producer Elia Kazan and screenwriter Budd Schulberg reunited for 1957's
A Face in the Crowd
— an originally overlooked film that questioned the power of the media, called out the soullessness of Hollywood and specifically warned viewers about the dangers of blindly believing everything on television.
Based on Schulberg's story "The Arkansas Traveler," the film stars Andy Griffith (in his big-screen debut) as Lonesome Rhodes, a singer/guitarist/philosopher/jailbird who's "discovered" by radio reporter Marcia Jeffries (Patricia Neal) and molded into an on-air personality. Loosely inspired by real-life characters including Arthur Godfrey, Huey Long, Will Rogers and Billy Graham, Lonesome jumps from radio to TV and eventually politics.
As Lonesome's ego explodes, Marcia realizes she's created a monster and decides to expose him for what he really is: an overstuffed crackpot who believes his followers are nothing more than "sheep, hillbillies and hausfraus." Speaking about his fan base, he boasts, "Those morons out there? Shucks, I could take chicken fertilizer and sell it to them as caviar. I could make them eat dog food and think it was steak. You know what the public's like? A cage of guinea pigs. Good night, you stupid idiots. Good night, you miserable slobs. They're a lot of trained seals. I toss them a dead fish and they'll flap their flippers."
If Lonesome Rhodes' bloated attitude reminds you of anyone in particular, you're not alone. Citing 45's infamous quote about being able to "stand in the middle of Fifth Avenue and shoot somebody" and still not "lose any voters," Deadline Hollywood writer Pete Hammond drew various parallels in a story titled "How Andy Griffith And Elia Kazan Predicted Donald Trump's Rise (And Fall?) Way Back in 1957's A Face In The Crowd." Reviving the enduring sleeper for a contemporary audience, the McNay screens the classic as part of filmmaker AJ Edwards' politically charged turn as curator of the Get Reel film series.
Free, Thu Nov. 29, 7pm, McNay Art Museum, 6000 N. New Braunfels Ave., (210) 824-5368, mcnayart.org.

Get our top picks for the best events in San Antonio every Thursday morning. Sign up for our Events Newsletter.