Unknown White Male is the story about what's left in amnesia's wake
Mere moments into filmmaker Rupert Murray's documentary debut, Unknown White Male, I'm rapt. It's got a heckuva hook to it, to be sure: A 35-year-old man snaps out of an unconscious daze on a New York subway to find that he hasn't the foggiest notion how he got there, where he's headed, and moreover, who he is.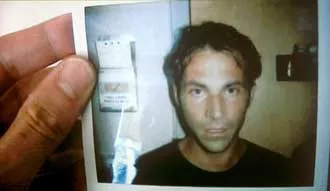 Doug Bruce is the subject of Unknown White Male, which documents his life after the onset of complete retrograde amnesia.
The condition: complete retrograde amnesia, the rarest form of memory loss. The subject: Doug Bruce, a British-born New Yorker and one of Murray's oldest friends. The kicker: It's all true (at least, allegedly; there has been some debate about this point).
The prevailing theory is that sometime between 8 p.m., July 1, and 7 a.m., July 2, 2003, Bruce entered what is called the "fugue state" of amnesia. He left his apartment unaware of himself, boarded the subway, and rode for some time before waking near Coney Island, at which point he noticed his memory loss and began, promptly and properly, to freak out.
Here's where the mystery starts to pile on and the picture really starts to cook. Frightened, alone, and fundamentally clueless, Bruce begins searching for help. His backpack offers puzzle pieces (painkillers, an unfamiliar vial of liquid, a Spanish phrase book), but no identification. At the police station, strange bumps are found on the back of his head, and a telephone number leads to a woman who says she doesn't know him. At the hospital, he remembers instinctively how to sign his name, but his signature is illegible, useless.
For the first 20 minutes or so, Unknown White Male is a real nail-biter, an absorbing psychic riddle that deftly places the viewer in the shoes of its hapless real-life protagonist. Unfortunately, once the cat's out of the bag, the film loses, perforce, a great deal of suspense and focus. Certainly, there are moments of note throughout the last hour and change — quietly memorable bits like Bruce's reintroduction to snow; awkward and occasionally touching "introductions" to friends and family. But the story elements get a mite repetitive, and far too many nagging questions about Bruce's condition are left unanswered.
For instance: He knows what Australia is, but not so the Rolling Stones, and says he is happy to be taking a world history course because he needs to catch up on "the last 500 years." So, does he not know who Hitler was? Does he understand the concept of religion? Has he now essentially never read a book, and do television and movie references and contemporary humor completely escape him? Nothing. Further, Bruce regrettably grows less likable as he becomes more secure — he is in an unfathomably frightening and uncomfortable situation, but loses me at times with his seeming inability to be more understanding of those around him, who are supportive and patient to a fault.
Regardless, Male is undeniably an interesting watch, candidly plumbing the nature of self as well as the weight of memory, personal history, and shared experience in human relationships. Try the uncomfortable interactive version: Watch it with a friend, then consider earnestly whether you'd want a relationship with him/her if this was your first meeting. •